"You like wine, then you make wine," says Jean (Pio Marmaï) to his beleaguered sister, Juliette (Ana Girardot). She's battling unruly grape pickers, who would rather throw the grapes at each other than harvest them. Juliette is at her wit's end, unsure whether she is capable of taking over the wine business started by her father. Jean's words of support and encouragement are enough to allay Juliette's worries, and she quickly gets back to the job at hand: winemaking.
It's this kind of simplicity – of character relations and story – that pervades Back to Burgundy. This isn't necessarily a defect of the film, for it ensures that there are payoffs and pleasures in how the characters' change and the narrative progresses. But it also means that these effects are hollow; they exist on the film's surface. While there are plenty of enjoyable and touching moments in Back to Burgundy, the film as a whole fails to sear itself into the memory like others might. It's charming without being lovable.
Despite its touches of familial fragility, Back to Burgundy is a profoundly peaceful film that only the French could make. Jean has stayed away from his hometown of Burgundy for ten years. In that time, he travelled the world, spending time in Europe, South America and Australia. However, when Jean's father – who he blames for his miserable childhood – falls ill,  he returns without telling his kin. Juliette is elated to see him, but his brother Jérémie (François Civil) is not as accommodating. He's aggrieved by the fact Jean didn't make contact for years, even after their mother passed away. However, this tension is neatly resolved when Jean explains that his son was born on the same day, and that he tried calling back days later.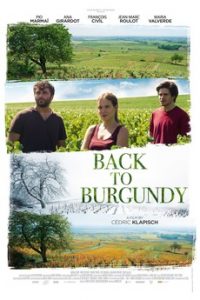 Their father dies soon after Jean's arrival, leaving the land and vineyard to the three of them. As part of his will, their father has stipulated that every decision must be unanimously agreed to, creating further problems and rifts between Jean, Juliette and Jérémie. They spend days and nights at their dinner table trying to decide what to do with the wine business.
The central tension in the film is whether Jean can reconcile his new life in Australia (that isn't without problems – as his marriage with Alicia (María Valverde) hangs in the balance) with his old one in Burgundy. Or will he have to give one of them up? Writer-director Cédric Klapisch finds an inventive resolution to this question that's in keeping with the film's unsensational yet sentimental tone.
Klapisch's cinematography captures the Burgundy landscapes well. The lush greenery of the vineyards envelops the film frame, standing in contrast to the dusty, barren Australian lands briefly shown midway through the film. Klapisch manages to frame both the macro and micro: the texture and feel of a bundle of grapes, and entire vineyards against larger backdrops of hills and mountains. For those of us yet to set foot on a vineyard, the scenery is quite a sight to behold.
There's also copious amounts of wine porn. Klapisch shows us how wine is made, from the pickers harvesting the grapes to Jean, Juliette and Jérémie stomping on them. And, of course, we frequently see the wine in the glass: being sniffed, swirled, tasted and drunk. This experience is likely to have audience members running to their closest bar or store once the film has run its course.
The milieu in which this film takes place restricts its universality. Its ideas of family and identity and time, are kept within the four corners of the story and characters. With its main characters inheriting a profitable vineyard, and its main character, Jean, having travelled the world for years without real financial concern, Klapisch's film has a distinctly bourgeois sensibility. Jean, Juliette and Jérémie's problems, while great and insurmountable in their own eyes, are hardly cataclysmic. This bourgeois way of looking at things is both a strength and shortcoming of Back to Burgundy.
Back to Burgundy is in cinemas from 5th July through StudioCanal.