Sicario: Day of the Soldado (Spanish for 'Hitman: Day of the Soldier') is the sequel to Denis Villeneuve's much acclaimed tension-filled, dispassionately patient, action-thriller Sicario. Many of the notable elements that made the first film so immersive are present: the detached, indifferent visual style, the pounding bass-heavy score, and the dogged duo played by Josh Brolin and Benicio del Toro. Taylor Sheridan also wrote the screenplay. However, there are critical differences: Soldado is helmed by director Stefano Sollima and, perhaps most glaringly, Emily Blunt's character (or a new equivalent) is absent. These two changes in perspective – behind and in front of the camera – mean that, whilst the film is a solid and engaging action-fuelled effort, it does not quite have the vision or plot twists to differentiate it from its predecessor in novel or improved ways.
The plot focuses on a new problem related to intractable drug cartel activity. US authorities discover that Mexican drug cartels are smuggling terrorists across the US-Mexico border. In order to combat this, CIA-backed Matt Graver (Brolin) and Alejandro Gillick (del Toro) devise a plan to ignite a war between rival drug cartels – by abducting the teenager daughter (Isabela Moner) of one cartel's leader and making it seem as though it was carried out by another cartel. The plan's execution goes awry, and some difficult decisions need to be made – ones which threaten to undermine both the operation and their close working partnership.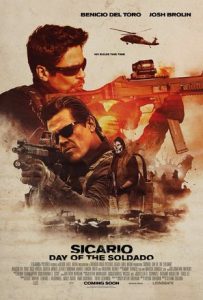 In terms of plot, Soldado firmly shifts its narrative focus to Brolin and del Toro's characters, enabling them to reveal new dimensions of their characters. Brolin's Matt retains an air of almost nonchalant determination and easy confidence. However, faced with tough mandates imposed by his superiors, he also shows hints of doubt. We also gain further insights into Alejandro's personal backstory, allowing him to reveal more emotional range – compassion, resignation – along with the unflappable vengeance, singularly channeled into clinical tenacity, which made the first film so tense and thrilling to behold. Their juxtaposed performances ground the film, and together make for an interesting case of contrasts.
The cinematography and score also remain similar to the first film. Dariusz Wolski's cinematography is strongly reminiscent of Roger Deakins', viewing bloody violence and parched landscapes with unsettling detachment, and Hildur Guðnadóttir's closely references Jóhann Jóhannsson's insistent, hammering score. However, these elements, whilst invoking the same sense of alienating, foreboding dread, do not achieve the same power because they are a little too derivative and not distinct enough in their own right. On a related note, in shifting the narrative focus, the plot is less tense. Sicario's relentless angst partially derives from its tightly controlled script, especially in modulating how information is steadily revealed to Emily Blunt's Kate (serving as audience surrogate). But Soldado's tension ends up relying less on calculated narrative nuance than it does on well-choreographed action scenes, which, whilst still engaging, are nevertheless less effective.
Overall, Soldado works as an engaging, solidly crafted action film. But because it does not take the opportunity to differentiate itself enough in terms of narrative construction and technical style, it ultimately remains in its predecessor's intimidating shadow.
Sicario: Day of the Soldado is in cinemas  from 28th June through Roadshow Films.