Brothers' Nest is the latest film from Clayton Jacobson, the director of the Australian film Kenny.  Again Clayton both directs and teams up with his brother Shane (who played Kenny), and this time the pair star.  This is a very Australian film, but it has plenty of hints from foreign counterparts.  The film is about the nature of families, and what happens when you look to a silly way to solve your problems.
Terry (Shane Jacobson) and Jeff (Clayton Jacobson) ride into the isolated farmlands of rural Australia on pushbikes; their destination is a farmhouse surrounded by a yard of abandoned and derelict cars.  Their plan is to murder one of the inhabitants, their unsuspecting step-father Roger (Kim Gyngell), to prevent him from inheriting the farm from their terminally ill mother (Lynette Curran).
Jeff has come up with a meticulous plan – including synchronising their watches and sending their phones to Sydney via courier to perfect their alibi. He has worked everything out, relying on the internet and years of watching TV crime shows to inform him of how to commit and get away with murder.  He wants Terry to pick up his cigarette butts and urinate in a bottle to prevent DNA contamination – but Terry points out they both grew up in the house; it's riddled with their DNA. Terry starts to lose his nerve, his reluctance exacerbated when Roger arrives home early and they have a cup of tea. Jeff persists, but unfortunately not everything plays out as intended.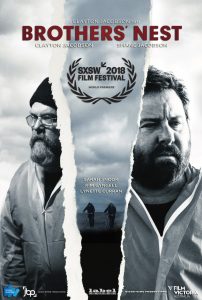 Brothers' Nest has a little bit of the Coen brothers' Fargo about it; a deeply black comedy where events rarely go according to plan and frequently result in violence of sorts.  The film is very dark and pretty funny; the script provides just enough back story to paint a picture of how and why they got here, but not so much as to make it annoying or obvious.
It's curious to ask if two men can essentially hold together the entire film, more curious still when the actors in question are brothers inside and outside of the film. Generally the Jacobsons do very well, but the introduction of Lynette Curran and Kim Gyngell quite late in the piece is welcome.  Curran and Gyngell are so fabulous that it's a little disappointing to not have more of them.  Alfred Hitchcock's Rope is brought to mind, a tense film set in one apartment and with a limited cast.  Clayton Jacobson is not quite at the directorial standards of Hitchcock, but he's impressive nonetheless. He does very well in maintaining the pace and interest with just the two cast members for two thirds of the film.
Jacobson relies on lots of drone shots of the exterior of the house, which are visually terrific but detract from the building tension of the narrative. By taking us outside, we get a reprieve of sorts.  By keeping us locked in the house, the tension (and potentially the humour) would escalate to more interesting proportions.
Brothers' Nest is in cinemas from 21st June through Label Distribution.