Paolo Virzi's The Leisure Seeker is one of those films you're going to want to discuss as soon as you leave the cinema. It's a film that is sure to divide audiences, destined to provoke as many hearty debates as it will leave some filmgoers speechless.
To reveal why this is the case would be to ruin this cinematic adaptation of Michael Zadoorian's book of the same name. But spoilers aside, The Leisure Seeker is a roadtrip movie that will make you feel nostalgic, frustrated, infatuated, devastated, and every emotion in between for the best part of two hours.
With John (Donald Sutherland) behind the steering wheel of an ageing Winnebago, and a wig-laden Ella (Helen Mirren) in the passenger's seat, The Leisure Seeker provides us with good company for the long ride. Sutherland is magnificent as a former English professor with an increasingly waning memory; his ability to switch from charming literary buff to senile pants pee-er within moments is heartbreakingly convincing. Although it takes a few scenes to get used to Mirren's Southern accent, she matches Sutherland with a typically solid performance that harmonises up and down with her counterpart's unpredictable behaviour.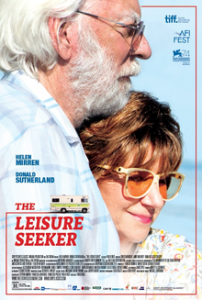 There are times when John and Ellas's impromptu journey feels like an endless stream of sketches in which short-term memory loss or old age is the punchline, like 50 First Dates for pensioners. Just as John's memory jumps around the place, we too jump across the United States on our way to Hemmingway's home in Florida, encountering ex-lovers, muggers, Trump voters and other amusing characters you wouldn't expect to find on a standard cross-country adventure. But in each scene, regardless of its novelty, we learn something deeper about John and Ella, whether it's the past they've shared together or their sense of disconnection with the ever-changing society that's evolved without them.
Much of the film centres on John's illness, showing how the affliction affects different people in different ways. But while those who have had family members affected by memory problems will find this most relatable, The Leisure Seeker speaks with just as much conviction on more universal themes such as family, interdependence, forgiveness and freedom.
The film's controversial final act may well turn some viewers' observations on their head (although those savvy enough will pick up on the foreshadowing), but the film deserves to be assessed for everything it says from start to finish and not just its final chapter. Those who give themselves the space to be affected along the entire journey with John and Ella will be richly rewarded, not just with a couple of fine acting performances but a moving love story that will pull at a diverse range of your heart strings.
The Leisure Seeker is in cinemas from 14 June through Entertainment One