Hot on the heels of his recent Best Foreign Language Film Oscar win for A Fantastic Woman, Chilean director Sebastián Lelio writes and directs a quiet reflection on love, loss and faith. Disobedience takes place in an ultraconservative enclave of London where a community's beloved Rabbi has died. Ronit (Rachel Weisz), having been ostracized from the group many years prior, flies from New York to lay her father to rest. Her return upsets many, though none more than Rabbi-in-waiting Dovid (Alessandro Nivola), a childhood friend of Ronnit who fears the influence of his friend on wife Esti (Rachel McAdams).
Whispered in hushed tones as if in a state of constant prayer, the film is slow moving and contemplative, shaken on occasion by a score which seems entirely out of place, often heightening non-existent tension or undercutting the severity of a moment. One such instance comes as Weisz is confronted with the realities of her father's final days, only to find The Cure's 'Lovesong' on the radio and blasted into the despairing room.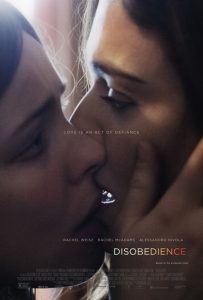 Rachel McAdams is almost unrecognisable in her Sheitel wig and loose, dark clothing, murmuring through a British accent alongside Weisz.  It is, however, hard to take your eyes off her. The subtleties in her anguish, struggling silently in a society that does not understand her, are extraordinary, her power in the face of despair, to find solace in her small triumphs, are so magical and so subtly conveyed by someone who has truly transcended their teen-comedy beginnings. McAdams is not just somebody's wife or girlfriend anymore and despite showing up fifteen minutes into the film, she really makes the story hers. She is matched only by Weisz, whose portrayal of confusion and sorrow, of the mourning outsider misunderstood, resilient and dislocated, is so cool and affecting. Nivola is strong also, so transformed as a man with minor modern views in a deeply devout world of faith where he is looked up to for his devotion and his values, that he almost seems like a newcomer, someone heretofore unseen, discovered in this role.
The film moves slowly and quietly, with the exception of one particularly explicit scene which rattles the momentum of the film and changes it moving forward. Ronit and Esti are exploring some ancient, buried feelings and their connection is electric. However the gratuitousness of a moment which begins so organically, begins to stick out as an intimate moment between two women, being written and delivered through an overtly male gaze. Perhaps this is intentional given the patriarchal society the two women, for a time, have escaped from, but the film's score, the sheer length of the film, and the confusing emotional ramifications afterwards, set an uncomfortable and undefinable tone for the remainder of the film, leaving an empty feeling at the end of an otherwise emotional journey.
Disobedience is in cinemas from 14th June through Roadshow Films.