Why ask eleven men (or twelve, or thirteen) to do a job that will only take eight women, and who will do it in better style? Welcome back to the Ocean's franchise, the all-woman reboot of the early-naughties hit (which was already a remake in itself).
Ocean's 8 begins with Debbie Ocean (Sandra Bullock) being released from prison. She promises to take up a simple life; work, pay her bills, make some friends. But Debbie is sister to Danny Ocean (played by George Clooney in the previous instalments), and a life of crime comes more naturally to the Ocean's than one of simplicity. Teaming up with her original partner Lou (Cate Blanchett), Debbie enlists a new crew for her big heist; stealing a spectacular diamond necklace directly from the décolletage of A-List celebrity Daphne Kluger (Anne Hathaway) at New York's annual Met Gala Ball. Stealing the necklace will be no small feat, and the crew assembled are somewhat motley but up to the task.
Unlike the previous films, Steven Soderbergh is not in the director's chair but executive produces instead. This leaves the film in the hands of Gary Ross, whose previous films include The Hunger Games and The Free State of Jones. Given the cast has been replaced with an all female ensemble, it would be good to see this film fly the flag a little higher and employ a female director, but this is a minor quibble as Ross delivers.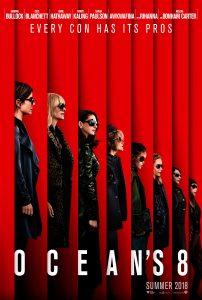 Ocean's 8 is exactly what it sounds, and exactly what one wants in a film of this nature (and what Marvel seems to have failed to deliver with Avengers: Infinity War). The film is glamorous, it has a cast of slick professionals, the fashion is sensational; it is fabulous, splendid escapism. There is a moment where Debbie is giving her team a pep-talk in the lead up to the job, 'you're not doing this for me, or for yourselves', she says, 'your doing this for the eight-year-old girl who dreams of one day being a criminal'. It is not necessarily just eight-year-old girls who dream of a life of diamond heists, magnificent wardrobes and of being a mastermind of international infamy. Plenty of us a happy to indulge in that fantasy for a couple of hours.
Debbie and her crew are doing what they do best, but so are Sandra and the rest of the cast. All the cast shine, but Cate Blanchett is the actual diamond; is there anything or anyone she can't play? She has played Queen Elizabeth, Bob Dylan, Katharine Hepburn, various other-worldly creatures, and now she is a better Brad Pitt than Brad ever was. Blanchett is completely cool and understated, allowing everyone around her to be their best. Helena Bonham Carter is hilarious, Sarah Paulson, Mindy Kaling and Awkwafina are all on form. Even Rihanna shows promise.
If we are to expect an Ocean's 9 and 10 to fill the gaps, then so be it. This is a franchise to easily buy into.
Ocean's 8 is in Australian cinemas on June 7 through Roadshow Films.