In the age of the #TimesUp movement, which looks to change the culture of film and Hollywood, it's refreshing to have a film focused on just listening to women, especially older women. The documentary Tea with the Dames brings together four titans of British theatre and film – Eileen Atkins, Judi Dench, Joan Plowright, Maggie Smith – for an afternoon of reminiscing. They talk about careers that go back to the 1940s, answer questions on their starts in the industry, their techniques, working with their husbands, and friendships that have covered half a century.
It feels like there's a very particular audience for this film, and some will find this a brief but fascinating insight into the world of some of Britain's best actors. Others might wonder what pushed this from BBC special to cinemas screens, when it really is better suited to watching on a Sunday afternoon at home. What both will agree on is that it's both moving and unexpectedly hilarious in parts, especially when Maggie Smith unleashes her acerbic wit.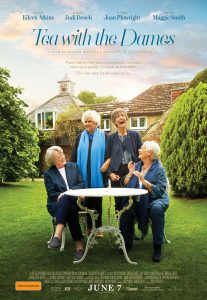 Few things feel more English than these four performers, much famed for their parts in costume dramas, talking in the garden of a country house. But there's little twee or reserved about these women, and director Roger Michell (Notting Hill, My Cousin Rachel) often struggles to guide their conversation or get them to even answer his questions. A query about ageing gets a swift "Fuck off, Roger", while much of the insight actually comes from the moments in between the setups and questions. Old footage and stills flesh out their recollections and remind us of the passage of time. If you're not clued up on their histories, then much is going to pass you by, but these women still have the power to command the screen. It's a very unstructured, rambling affair, where conversation dictates the flow. Though that's part of its charm, it does suffer from that lack of a guiding through line, something to tie it together.
For aficionados of British film and theatre, Tea with the Dames might be an event like Avengers: Infinity War was for superhero fans. For them, it'll be like a dream afternoon spent with a group of eccentric aunts; aunts who are full of advice, wisdom, and the odd naughty story, and who just happen to be four of the most influential British actors around. For others it's little more than an occasionally delightful diversion.
Tea with the Dames is in cinemas from 7th June through Transmission Films.