Many films have tried to present motherhood on screen but few of them are willing to portray the darker tinges of it. Yes, pushing a partially formed human into the world is astonishing and the strange equation of man plus woman plus coitus equals life makes absolutely no sense when you really think about it, but we rarely see the difficult truth of just how punishing those first few months can be. As the adage goes: mothers are basically a kind of cruel biological experiment to prove that sleep is not a crucial part of human life.
Yet the latest film by Jason Reitman, after a string of uncharacteristic misfires (Labor Day, Men, Women & Children), motherhood with all its beauty and difficulty is explored in an original and deceptively moving way. Written by Diablo Cody, who has penned three of Reitman's seven films and is a mother of three herself, Tully covers a very important subject and brings back everything that made this writing/directing team so successful. Reitman has his mojo back; this is his best film in years.
We start with a middle-class, middle-aged nightmare. Marlo (Charlize Theron) has her third bun in the oven, in addition to her pre-pubescent daughter and her son, who with his strange rituals and very loud screaming meltdowns is probably on the spectrum. Her husband Drew (Ron Livingston) works hard and provides but could be a lot more helpful around the house. Money is not plentiful and it's clear that number three wasn't planned. When visiting her brother (Mark Duplass), who is the worst kind of prick: one with a successful business and who seems to have his life in order, he gives them the number of what he calls a 'night nanny'. It's the latest trend in yuppy social circles: a nurse comes to your home in the evening, the mother hands off the baby, and then goes to bed and only has to wake up to feed a few times during the night. It's motherhood but you get to sleep; it seems too good to be true. They take up the offer and Marlo is introduced to Tully (Mackenzie Davis), the night nurse who changes this family in unforeseen ways.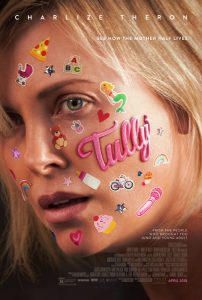 Theron truly is a once in a generation actress. She hardly plays the same role twice and isn't afraid of showing every part of herself. To play this character she gained over twenty kilos, a mark of confidence in both herself and Reitman's ability which shouldn't be overlooked. Playing a recent mother isn't glamorous in the slightest; a desolate mix of bloating and exhausted, with a figure sometimes resembling a level of body horror that wouldn't be out of place in an early Cronenberg film. This was a brave role for Theron to take on and she deserves every credit for it.
Diablo Cody has her own unique voice when it comes to scriptwriting and no one can bring it to the screen better than Jason Reitman. They make an excellent pairing, and with Theron in the centre this trifecta is a unique match that has worked wonders.
The use of music plays a large role in the overarching narrative. The abrupt revelation that every parent has to come to terms with – that they are not the centre of their own life anymore – isn't something explored all that often. This they have to accept while cleaning up the turds that a tiny screaming gremlin who never shows the slightest hint of appreciation keeps excreting in the middle of the night. Reitman uses music better than almost anyone else, keeping up the the pace and speaking of that nostalgia that many mothers have for their youth, as they realise that nights out with friends and quiet contemplation are things of the past.
With the rapid rise of female content coming to our screens, covering the tribulations of motherhood is exactly the kind of topic that should be explored more, especially since it's a scenario that everyone came from. Being new parents has to be one of the most difficult things that biology ever threw at the human race and with women expected to shoulder this burden largely by themselves, this the kind of film that should be made. Tully is a deceptive narrative that speaks volumes about the topic, but made all the better for the masterful blending of humour and truthfulness that Reitman is excellent at weaving together.
Tully is in cinemas from 10th May through Studiocanal.