Midnight Oil: 1984, focuses on the year 1984, a time fans could tell you that the iconic album (no. 5) Red Sails in the Sunset was released. With polarising reviews, the album had a different sound and playfulness to it having been recorded for the first time in Japan. But you can still hear what the Oils are known for, reeking of politics. 
Opening with some vintage (Peter) Garrett for PM T-shirts, the film flash-forwards a little. Spoiler: Garrett never became PM but he did join the ALP for 6 years in 2004. Also with some flash-forwards you see just how the Oil's impacted Australian music and became a success story in the overseas market. The documentary even nicely ties in recent events when the band sold out Australia wide in several minutes for their 2017- The Great Circle tour, which had extended to London, America, Paris and New Zealand.
Midnight Oil: 1984, follows the two chapters that make up Garrett's life, the band and federal politics, in particular running for the Nuclear Disarmament Party in 1984. But for him, it had to be one or the other. Even though you can hear the Oil's strong political focus, the band was often criticised by the media for dabbling into both.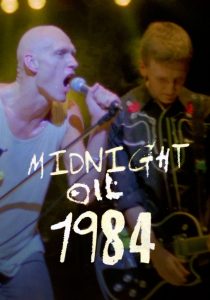 As a documentary, Midnight Oil: 1984 is limited.Ray Argall has directed a documentary about Midnight Oil that contains 30 years of never before footage of the band on and off stage. PSSS let it be known that the Oil's are not your classic rock band. They didn't do drugs, drink or whore around. You need an interest in the band or for that matter Peter Garrett. If that means something to you, then this is everything. To this reviewer I fall somewhere in between. By the end of Midnight Oil 1984 it really strengthened my impression of the band and their legacy to the music industry as social, political and environmental activists.
Where this doco is strong and most enjoyable is through the acoustics and fandom. Showcasing the intensity and dynamics of the Oil's musically, you wish you could have been there. The impact Garrett had over the younger generation is phenomenal and a little didactic. Pre-internet, this is a time of naivety and a lot of activism. Sourcing information wasn't as accessible back then, so it is really inspiring to watch fans take on political, social and environmental agendas from limited resources. Fandom didn't stop at an Oil's gig, it also meant you had to vocalise your passion outside.
In this case, you do not need to be active watching Midnight Oil: 1984, this doco is asking you to listen and indulge in the rare but relevant footage, its sound and Garrett's spasmodic dances he has perfected over the years. Not to mention the many, Oil's bangers I had to stop myself from chanting early on a Friday morning at Cinema Nova.
Midnight Oil: 1984 is in selected cinemas from 10th May through Madman Films.