Nominated at SXSW and selected at Toronto Film Festival 2017, Outside In is a new drama by Lynn Shelton is dominated by the leads Carol (Edie Falco) and Chris (Jay Duplass).
Shelton's previous films Humpday (2009) and Your Sister's Sister had also screened at the likes of MIFF, but you could say Outside In is different. It is unlike the standard festival films that come at you with the same aesthetic and ambience; it is fresh and poignant. Tears, laughter and definite gasps are some of the emotions, if not all of them, to endure.
Outside In follows Chris and his younger brother Ted (Ben Schwartz) to his own surprise party. Chris has been in jail for twenty years. He is now 38 years old and a lot has changed for him, like technology for starters. Scenes are quite hilarious when observing Chris's discomfort with a smartphone or understanding that YouTube videos can be played through the TV.
The film, however, pulls a stronger focus on the journey Chris makes to rekindle with his former teacher and pen pal, Carol (Edie Falco), during his jail time. Learning to deal with some bottled emotions, Chris is forced to make sense of his new reality.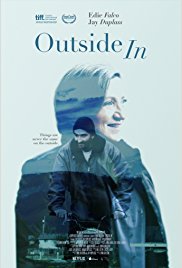 Outside In is felt through its texture, paired with slice-of-life suburban characters often seen in a Harmony Korine narrative. Handheld camera work is often conflicted with lush landscapes, making the viewer want to explore the film's location, Washington State, and its striking greenery.
Shelton's flair for strong authenticity is ever present. Characters inhabit their own environments with such style while making wardrobe and dialogue important. Chris still wears his sloppy 2000s hoodies (on trend, perhaps?) and uses outdated wording like "rad" or "gay" (on the "gay" part, he is told this is a politically incorrect word to use nowadays.)
Duplass is charismatic as Chris, though one may wonder if the character's charm would would play as empathetically if in the hands of a less talented actor. Nevertheless, there is something striking with Duplass. Chris is an interesting representation of the struggles after imprisonment and contrasted beautifully with Carol as the unhappy married woman who still feels love and inspiration. Each feeds off the other and helps each other with reality. Falco is charming playing Carol with honesty and poise.
Outside In is best as a exploration of a Carol and Chris' relationship, as we witness the warm and cold interactions and understand the tensions that plague their bond. Being in love should be easy in context, but it is also easy to repress and cloud our thoughts with what society wants. As frustrating as reality can be, feeling this melancholy and masochistic is so endearing to sit through.
With a rich narrative, Outside In has beautiful texture, characters and emotions. It is funny and dark and has something to show in an honest and complex way.
Outside In, you are an absolute delight.
Outside In is in playing at the American Essentials Film Festival from 10 May.