Tennessee Williams' play, which won a Pulitzer Prize in 1955, explores the nature of truth, lies, death, family and alcohol. For their latest performance, in what is shaping up to be a very good year for live streamed plays, National Theatre have again turned to Australian director Benedict Andrews (NT Live: A Streetcar Named Desire and Una) to bring this seminal work of the 20th Century to a raw and original new production.
In an estate in rural Mississippi a Southern family is beginning to feel the beginnings of a crisis. Inside their bedroom, the only setting in the whole play, the struggling couple of Brick (Jack O'Connell) and his wife Margaret (Sienna Miller), or 'Maggie the Cat' as she's sometimes known, are getting ready for a birthday party later in the evening. Jack's father, who everyone simply knows as 'Big Daddy' (Colm Meaney) is reaching a milestone age and has gathered his family together for the evening. This begins one of the longest nights of their lives, as a cancer diagnosis coupled with several ongoing feuds rent this old and rich family apart.
Benedict Andrews isn't afraid of tackling big and difficult themes with his work. Whatever he does is always interesting. He's excellent at throwing himself into subjects that many other directors don't want to go near (e.g. a surface level sympathetic look at pedophilia in Una). The works of Tennessee Williams seem like a really good fit as many of the themes present suit Andrews' directorial style quite well.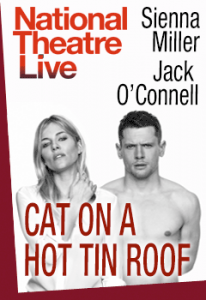 Sienna Miller's list of quality performances continues. The majority of the first act is her playing off against Brick, who is getting steadily more drunk as his rapidly growing alcoholism consumes him. The first thirty minutes mainly consists of Miller delivering an ongoing monologue and the sheer quantity of the dialogue she delivers is remarkable. Special mention to whoever design the gorgeous black dress she wear in the later acts too. Jack O'Connell, who doesn't have a lot of dialogue and even less clothes to wear (the play isn't afraid of nudity and he begins the play in the shower wearing only his birthday suit) does his best but is simply overshadowed by the performances of Miller and later Colm Meaney.
Williams wrote the play during the heydays of the beat generation and the influence shows. If you're like me then you're one the countless people who bought On the Road thinking it would make a great paring with cigarettes and black coffee, but then only made it a few dozen pages in. With its long flowing stream of consciousness it comes across more like a bunch of very long, very repetitive sentences disjointedly glued together rather than a novel. The same kind of feeling applies here, although Cat on a Hot Tin Roof is far more accessible than Kerouac's novel.
A lot of the dialogue relies on repetition. Repetition you say? Ah yes, Repetition. The dialogue is very repetitive and repetitive is how the dialogue can be. But not just any kind of repetitive, alas no, the kind of repetitive that you think is over but then loops back around because, as I say, a lot of the dialogue relies of repetition. This isn't bad writing – no one could ever say that about a work by Tennessee Williams – but rather one that conforms to a style that now seems a little strange. You have to adjust to the cadence of the text, which is double difficult because, as the play is set in Mississippi, all the dialogue is delivered through very thick Southern accents that twang and roll like a bass guitar.
Cat On a Hot Tin Roof is one of those classic texts that can and should be revived every few years. A piece of literature like this will mean something new to each generation and the themes explored within are deep enough to always be applicable. Benedict Andrews' version isn't the best play we've seen recently from National Theatre but with directing and acting of this quality it's worth the time of classic theatre goers.
NT Live: Cat on a Hot Tin Roof is in Australian cinemas from Sat 5 May through Sharmill Films.