Richard Linklater must be a relief to work for. Never in a hurry, he seems to encourage such natural performances that his films almost give the impression that the cast are there to do little more than chew the fat. It's this comfortable groove in which Steve Carell, Bryan Cranston and Laurence Fishburne find themselves in Last Flag Flying. Here they unite as a group of Vietnam veterans drifting from burger to burger in Bush-era 2003 as the war in Iraq continues to divide opinion. But this is not a happy reunion. They have a coffin in tow. Larry 'Doc' Shepherd's (Carell) son has been killed in action.
The line is that he was killed in action, that he died a hero, that he will be buried with full honours, but the end result is the same whatever the circumstances. Doc's year has gone from bad to worse, his wife having died of breast cancer a few months earlier, and he needs support. Ending a decades-long break between drinks Doc enlists his old army buddies Sal Nealon (Cranston) and Richard Mueller (Fishburne) to accompany him at the funeral. The army want to bury him as a soldier at Arlington Cemetery, but Doc wants to bury him as his son in their home town and he is yet to be told the whole truth.
Carell has already proven his dramatic chops in films like Foxcatcher and Little Miss Sunshine, and he reminds us of them again carrying Shepherd's story beneath hunched shoulders and quiet air of defeat. In spite of the grim tidings, there is comedy in here, the easy nostalgic kind that fits snugly in the boot of a roadtripping sedan, but it isn't Carell who provides the laughs. His manic happy face seems a bit too goofy to fit the mood, so the wisecracking role is left to Sal, now a rough-around-the-edges barman with little respect for authority. It is a comfortable fit for Cranston, and Sal is an appealing foil for Mueller, played by a straight-faced Fishbourne, who has reformed and become a preacher since his days drinking and brawling during the war. Together these two constitute the push and tug of the cartoon devil and angel on either side of Doc's conscience.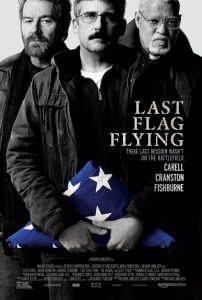 It is in these characterisations and their musings on the moral conundrums of war that Last Flag Flying perhaps loses some of its authenticity. Certainly Yul Vazquez's Colonel Wilitz also carries some of the same curse. His sole mission in life seems to be getting Doc's son's body into Arlington whether Doc likes it or not. As a result, he comes across less as a military undertaker than an angry dean from an 80s frat-house comedy, with the vanishing trio effectively making off with the mascot (the hazards of making a film like this right after ­­Everybody Wants Some!!). There is little call to fashion a villain for the sake of a villain in this context, and while Last Flag Flying still strikes a neat balance between patriotism and scepticism, the earnestness of the material by Linklater and Darryl Ponsican, on whose novel this is based, can lead it to allegory. The film's strength comes from the chemistry of its charismatic leading trio, who are all having a great time in each other's company.
This is undoubtedly one of Linklater's safer projects. It is a familiar piece of history framed in a familiar genre for easy watching, but perhaps this home-front fable is the kind of war film most likely to strike a chord. It makes sense that the hero label would lose its lustre when applied universally; the intention behind that gesture can then be seen not as an honour but merely a justification of death to placate those affected. In Last Flag Flying, when the condolences offered to bereaved relatives are interrogated further, they are portrayed as little more than a desperate ploy to distract from the murky politics at play. On that note, you could say this is not so much an anti-war film as an anti-bullshit film, and in this it is nothing if not heartfelt.
Last Flag Flying is in Australian cinemas from 26 April through Transmission Films.