Gurrumul is an Australian documentary celebrating the life of musician Geoffrey Gurrumul Yunupingu, who started out on the keyboards, guitars and percussion with Yothu Yindi and progressed to his own solo career, dying in 2017 at age 46. Gurrumul was born blind and doesn't say much. Media has been limited to communication through manager, producer and longtime friend Michael Hohnen. In effect, Hohnen speaks on behalf of Gurrumul.
For this reviewer, my opinion on Hohnen and Gurrumul's relationship was skeptical, but I am pleased to say this documentary certainly changed that. It shows a shared and respectful bond between the two. Their long-term partnership is beautiful and evident; it is even suggest suggested the two are like brothers. But what changed this judgment is the strength and influence Gurrumul holds over Hohnen and how the two can work together and respect each other's choices.
The idea for making Gurrumul came from Paul Damien Williams who is the in-house director for Skinnyfish music, a Darwin-based record label for ingenious artists. This documentary wastes no time to let you know that this label is quite like no other. It is not interested in showing an artist in a rag to riches cliché or for that matter, being commentary on aboriginal 'versus' white people.
It is spiritual yet simple.
Starting with an attack on stardom and what it means for the artist today through social media, it uses Gurrumul as example, literal and metaphorically. Suggested as anti success, Gurrumul wasn't interested in money and did little media. And like a Kurt Cobain conundrum, this ironically had the opposite affect, making him a double platinum-global success and the media screaming to know more. This is what makes Gurrumul strength come through. It shows what it means to be of Yongu identity and the public persona Gurrumul is able to fulfil. Finding leveraging between the two, this is important for Gurrumul as it is conflicting.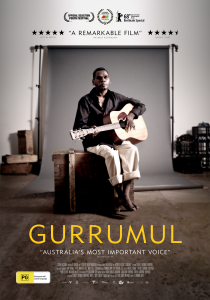 Although we do get a few lol moments in Gurrumul: Sting performs with Gurrumul on a prestigious French TV show, to the time of being on the Red Carpet for the ARIAs with Ruby Rose and her rather, bad choice of words, not to mention her general MTV VJ vibe. This documentary doesn't uses celebrities, but a much smaller community. Representing the people from Skinnyfish and Gurrumul's home you get a personal and intimate understanding of the two sides to Gurrumul's life.
With striking cinematography, in Gurrumul you are able to see a natural but important journey with the land as a spiritual backdrop. You could even use this documentary as a history lesson. The setting speaks for itself and at times, allows the viewer a sensory experience.
It doesn't need cliché, this just needs to showcase and uphold Gurrumul's legacy as a prolific musician and important identity. It does this so, so justly.
Gurrumul is in Australian cinemas from April 25th through Madman Films.