Written and directed by Sally Potter, The Party is a black and white art film with several great performances and a lot of thoughts and ideas rushing around its mind. This is the kind of experience best enjoyed with a glass of red wine and a few self-aware chuckles.
Following on from the many performance pieces structured around a dinner party, we begin with Janet (Kristin Scott Thomas) preparing a few nibbles for some guests who are on their way. She has just been elected shadow minister for health in what is only called the 'opposition party' while her husband Bill (Timothy Spall) sits in the backroom with a glass of red wine, staring into the distance. Including the two of them there are seven people at this party. The other attendees include Martha (Cherry Jones) and Jinny (Emily Mortimer), a lesbian couple who are just about to announce their pregnancy of triplets through IVF, Gottfried (Bruno Ganz) and April (a wonderfully feisty Patricia Clarkson), a couple on the verge of a break up who see the world at polar opposites, and finally the anxiety ridden, coke-snorting banker, Tom (Cillian Murphy) who has a secret that will blow this party up.
There's a lot of fun to be had with this sharp and biting satire. This looks and feels like it was made off the smell of an oily rag, just seven actors chewing over a screenplay full to bursting with different ideas. At only 71 minutes it's not a big commitment, just an entertaining think piece that showcases some excellent performances and gorgeous black and white cinematography by Russian Aleksei Rodionov.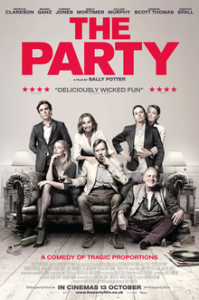 Sally Potter has been making films for 40 years and has won awards at nearly every major festival in the world. She is one of Britain's most important and original filmmakers, to the point that she was granted the title of Order of the British Empire in 2012. The Party seems like the kind of thing that she wrote to get some things off her chest. Topics range from the decline of capitalism, theistic debate, western medicine and the ethics of IVF.
This is precisely what academic writing looks like. It's that strange catch-22 wherein the film is made to satirise the elite dinner parties of the upper-class intelligentsia, yet it looks and feels like it came out of that exact demographic. There's many surface level ideas here, most of which are just mentioned without exploring them in any depth. It seems like it would make for a brilliant play but on screen it comes off a bit on the nose. The people who the film pokes fun of are probably the crowd who will enjoy it the most.
Yet there is some depth with a few fun bits of meta-narrative. Timothy Spall – who I maintain is riding one of the great career highs of this decade with his current renaissance – plays a man who breaks his silence about his cancer diagnosis, Spall himself still being in remission from a cancer diagnosis. Bruno Ganz, who everyone will know as playing Hitler in that viral video that everyone puts subtitles on top off, upon being accused of being a fascist says very pointedly "I'm not a Nazi!" (on this topic, do yourself a favour and see the film Downfall that clip comes from; it's a brilliant film). Finally Cherry Jones, playing a lesbian professor specialising in gender dynamics, has been out of the closet since her career began in 1987 and has been an outspoken campaigner for LGBT rights for decades.
Although it does come across as slightly elitist and the ending is more like a punchline than a narrative conclusion, there's a lot of fun to be had here. Seven wonderful actors at the top of their game is always a treat.
The Party is in cinemas from 19th April through Madman Films.