What better game to play when you're a young drunk college student than an old-fashioned game of Truth or Dare? But don't think the dares will be solely related to sex, nudity or general humiliation, and the truths about little more than crushes. It's time to GO HARD OR GO HOME. And by that I mean die.
After being coerced by her best friend Markie (Violett Beane) and Markie's boyfriend/her secret crush, Lucas (Tyler Posen), Olivia (Lucy Hale) reluctantly agrees to go with her squad to Mexico for spring break. The three of them are joined by binge drinker, Penelope (Sophia Ali), her arrogant douche boyfriend, Tyson (Nolan Gerard Funk), nice guy, Brad (Hayden Szeto), and tag-a-long, Ronnie (Sam Lerner). On their last night there Olivia meets Carter (Landon Liboiron), who invites the group back to an abandoned convent for some fun. They go willingly because they're young and stupid, and he suggests a game of Truth or Dare. Hey, it's more interesting than Spin the Bottle.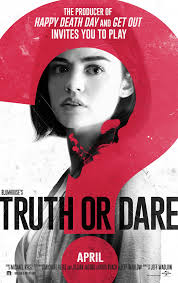 When it's Carter's turn and he chooses Truth, he admits that he lured them there under false pretenses to play the game. He urges Olivia to keep playing with her friends, that if they don't do the dare they die, that if they don't tell the truth, they die. And so the fun begins. With every turn, a friendly face morphs into a creepy Willem Dafoe grin/scary snapchat filter that urges them to select their poison: Truth or Dare? While the grins look ridiculous, they do stay with you when you're walking down an alley alone after the movie.
Truth or Dare is the latest release from Blumhouse Productions, the company responsible for a bunch of mediocre horror films, along with a couple of critically-acclaimed gems in Whiplash and Get Out. It's unsurprisingly in the first camp – but it's entertaining nevertheless. While the truths and dares aren't exactly seen coming a mile off, they tend to become apparent shortly before they're revealed. They're neither overly predictable nor shocking, and in some cases that balance is rewarding. There are also a few somewhat random ones in there to keep it interesting, making for some nail-biting instances. It's no surprise that the film plays with the idea of honesty and all that 'living your truth' shit, and while it may be the obvious play for everyone to keep choosing Truth, the film deals with that potential issue appropriately.
The limited experience of both director, Jeff Wadlow, and his three fellow screenwriters (Jillian Jacobs, Michael Reisz, and Christopher Roach) does show at times, in clunky dialogue that produces laughs where there shouldn't be any, and obvious jump scares. The cast are mostly forgettable, unless you're a fan of trashy teen TV such as Pretty Little Liars and Teen Wolf, which to be fair probably is the target audience. Overall, it's hit and miss but it has certainly turned me off playing Truth or Dare again (not that I've played it in the last fifteen years, mind you). Released just in time for Friday 13th, you get what you expect with this one, so those opting to see it will most likely be satisfied with this standard fare. Brace yourself for the accompanying Snapchat onslaught.
Truth or Dare is in cinemas from 12th April through Universal Pictures.