John Krasinski's star is on the rise in the land of Tinseltown. The former star of The Office (US) shows off his versatility, directing and starring in A Quiet Place, a horror filled to the brim with suspense.
The world crafting is terrific and the pacing is on point. The film throws us into the middle of a story, and we hit the ground running, opening in a ghost town with evidence of tragedy strewn across the frames. Krasinski plays Lee, a father whose family consists of his wife Evelyn (Emily Blunt, Krasinski's real life wife), and their three children. They appear to be the only people alive.
It's immediately evident that this is an environment where the family can make no sound. They sign to each other as they scavenge basic supplies from the abandoned supermarket, tiptoeing around. In a tense moment the five-year-old son nearly drops a toy rocket. The film fast forwards through critical events, eventually settling at a point with Evelyn heavily pregnant, ready to pop. It's excellently paced with gripping events and the result is a film akin to a high level Shyamalan film.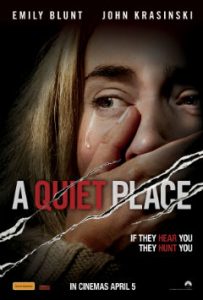 The film is nearly entirely silent with lines of dialogue squeezed in at opportune moments. It's an unusual and eerie effect and manages to avoid gimmick or novelty territory. Krasinski does impeccable directing and world building. As an actor he manages a similar feat, conveying meaning in an unusally quiet film with his rubbery face. The family is likeable and the audience is drawn into their tight bond, making it all the more tense when things go awry for them. Child actors Noah Jupe, Millicent Simmonds, and Cade Woodward do fantastic jobs, and Blunt and Krasinski's real life connection shines through into their characters.
The film is tight and compact with virtually no wasted or excess footage. Veteran editor Christopher Tellefsen, and in particular, Krasinski, should be commended. To get nit-picky the one big weakness of the film is a score not up to the same level as the rest of the film. It's well known that the horror genre relies on the sound to heighten the tension, and with a mostly dialogue-absent film the accompanying piece is a little bland and vanilla. It's also unfortunate but the final five seconds does not jive with the tone of the film at all, taking the viewer out of the atmosphere. Other than that it's a great sophomore film from Krasinski and a must see for suspense-horror fans.
A Quiet Place is in cinemas from 5th April through Paramount Pictures.