Great teen films are making a comeback. While much of the twenty-first century has seen truly great teen movies released approximately once every few years, Love, Simon is the third in just over a year to deserve teen classic status, following on from the brilliant The Edge of Seventeen and the Oscar-nominated Lady Bird. Taking cues from John Hughes, Love, Simon is an absolute delight, and is indeed as ground-breaking as all the posters suggest.
Based on Becky Albertallli's novel, Simon vs. the Homo Sapiens Agenda, the film focuses on Simon (Nick Robinson), a seventeen-year-old with a secret: he's gay. And while he acknowledges that he has liberal-minded parents and friends, he's still nervous about coming out. After he sees an anonymous post online by another student from his school who is also yet to come out, he starts up an email correspondence with the mysterious 'Blue'. The two have similar experiences, and Simon, under the pseudonym 'Jacques', starts to develop feelings for the guy whose identity he can only guess at. When their email correspondence ends up in the wrong hands, blackmail ensues and Simon's world begins to fall apart.
Love, Simon is mainstream, but that's the point. What's remarkable is that it's reportedly the first film to be produced by a mainstream Hollywood studio that features a gay teenage protagonist. Its tagline, 'Everyone deserves a great love story' reminds us that this isn't something we see nearly often enough. Simon is certainly a fairly privileged character: white, upper middle class, liberal parents and awesome friends. Some might criticise a coming out story that involves a character who will probably get through it relatively unscathed, but it's surprisingly quite unusual to see such a take. There are no crazy religious parents chucking him out, no town turning against him, no immediate threats of physical violence. There are a couple of losers who bully him for about five seconds, until they find out they're in a sad, pathetic minority who won't be tolerated.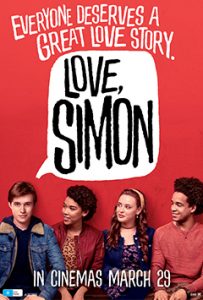 His upper middle class existence doesn't mean it's not still hard for Simon. He still faces the internal struggle that all individuals who grapple with their sexuality experience, and he can't know for certain whether his loved ones will treat him any differently. The mostly positive reception to Simon coming out is a welcome portrayal, and should with any luck provide some hope to those in its audience grappling with their own fears about revealing their sexuality.
The mystery element of the film is an enjoyable one. Simon begins to suspect that various peers could be Blue, and we see his imagination fill with images of each of them on the other end of the exchange. Is it one of them, or someone else entirely? Screenwriters Elizabeth Berger and Isaac Aptaker, along with director, Greg Berlanti – all known mostly for their writing for TV – do well to keep the reveal from being too obvious and it's a rewarding one when it finally happens.
Nick Robinson, other than being utterly gorgeous, is wonderful in the title role. While Simon makes some poor choices involving his close friends, Leah (Australian Katherine Langford of 13 Reasons Why fame), Abby (Alexandra Shipp), and Nick (Jorge Lendeborg Jr.), he is endeared to the audience thanks to a fine performance from Robinson. All performances are strong, including a comedic but strangely heart-warming turn by Tony Hale as the vice principal, and Jennifer Garner and Josh Duhamel as Simon's parents. After Simon does eventually come out to his parents, his individual scenes with both, while not quite at the magical level of Michael Stuhlbarg's in Call Me By Your Name, are lovely and a good example of how all parents should be.
Amongst the drama there's a healthy dose of comedy thrown in for good measure, making it the feel-good film it's been marketed to be. A couple of fantasy sequences poking fun at the notion of coming out are particular highlights, and there are plenty of good one-liners. But ultimately it's the message to the young viewers watching that maybe it will all be okay once you finally reveal your true self to the world, that makes this a true gem.
Love, Simon is in cinemas from 29th March through 20th Century Fox.