"Born Vera Jayne Palmer. Becomes a Broadway Star.
Moves to Hollywood, with a 40-G Cup bra.
Refused Miss Rowuefort Cheese, accepts Miss Photo Flash.
From here to obscurity – dies in New Orleans car crash!"
The adage that truth is stranger than fiction was made for stories like the last few years in the life of Jane Mansfield. In 1966 she was one of the most well known women in the world – a movie star, singer and sex icon. She was one of the first ever Playboy playmates and even has the illustrious honour of being considered the first mainstream actress to get her kit off in a mainstream film.
She was a reality TV star before that was even invented; she was rich, famous and literally lived in a pink palace on Sunset Boulevard. Sometimes dubbed 'Hollywood's smartest dumb blonde' (She along with Marilyn Monroe and Mamie Van Doren made up the three 'M's of the old Blonde Bombshell archetype) she enjoyed wild fame and success for all of her adult life.
Mansfield 66/67 is directed by P. David Ebersole and Todd Hughes (two of the producers of Room 237, one of the greatest film documentaries ever made), and is adapted from their screenplay which they couldn't get produced. It is a fun and informative documentary which tells an utterly bizarre story alongside lavish and indulgent production designs.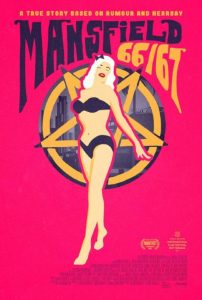 2017 was the 50th anniversary of Mansfield's death, when she unfortunately was involved in an unusually horrific car accident in New Orleans where she was almost decapitated. The documentary is put together in seven parts. The first few focus on her rise to fame and living the movie star dream, before moving on to her final two years, when things started to spiral out of control.
The title of Ebersole and Hughes' screenplay was 'The Devil Made Her Do It". In 1966 Mansfield  got quite friendly and is even rumoured to have had an affair with Anton LaVey – the man who created the Church of Satan. This is just one of the crazy developments that dogged Mansfield's last years, the other notable episode being her son getting mauled by a lion. At the time of her death she was living with her attorney Sam Brody, a drunk and an abusive partner who, in a weird development which has been like catnip to conspiracy theories and occultists, LaVey put a hex on saying he would be killed in a car accident.
There's a lot of fun to be had here. A lot of the talking head interviews are excellent, with John Waters being his usual standout best. There are historians, performers and Hollywood legends willing to comment on this fascinating story. Believing a lot of it isn't mandatory; it's admitted from the opening scene that most of this comes from rumour and hearsay.
The creative decision to have interpretive dance numbers scattered around the film wearing Jane Mansfield wigs doesn't contribute anything and is more pretentious than anything else, but apart from this Mansfield 66/67 is an undeniably fun and fabulous romp into the strange halls of tinsel town history.
Mansfield 66/67 screens as part of the Melbourne Queer Film Festival from 15th to 26th March.