Christian (Claes Bang) is a top curator at a renowned contemporary art museum in Stockholm. He's handsome, well-groomed, charming, intelligent and articulate. From this description, one might assume he lives an idyllic, untroubled life. Another film might have, in all probability, taken such a path. But the director of The Square, Ruben Östlund, is far more interested in the imperfections of humanity, the insecurities of men, and the fissures manifest in society.
Östlund is coming off the highly acclaimed Force Majeure, a film about the collapse of a family unit after a father abandons his wife and children during a ferocious avalanche. This irreversible event proves devastating; his wife shuns him, and his children become distant. Amid these ruins, Östlund weaves in smart commentary about the fragility of the patriarchy, questioning the reigning social structures of our times. Shades of this appear in The Square, but it's a film more ambitious and expansive than Force Majeure; it satirises, polemicises and dramatises the art world, polite society, the state of the media, class, masculinity, and the very limitations of humanity itself. It's needless to say Östlund paints a rather bleak portrait of modern life, but one significantly more pertinent than the exhibits Christian curates.
The people in The Square, for the most part, are self-serving and aloof, insensible to the grief around them. Östlund shows this in an understated but hilarious early scene. Christian is walking to work, glued to his phone, completely oblivious to a homeless woman pleading for charity. His gaze is broken when a young girl charges towards him. She's trying to escape her abusive partner's clutches. And with the help of another stranger, Christian blocks his way, so the girl can run to safety. The men, bound together by their heroic feat, hug, gesticulate and high-five. Seconds later, Christian realises he was set-up: his phone and wallet have been stolen. His chest-pumping bravado is quickly deflated.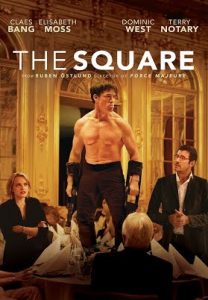 Michael (Christopher Læssø), Christian's assistant, electronically traces his belongings to a dilapidated apartment block, worlds away from the comforts of Stockholm. Christian places letters of demand in all of the mail boxes, threatening to rough up whomever took his possessions. This strategy – ill-conceived, as it turns out – has unexpectedly bad consequences.
All the while, Christian is rather busy at work. He's inundated in the preparations for a new exhibit, fittingly called The Square. It's just as it sounds: an empty square box drawn onto the museum's floor. However, it's demarcated as a space for love, trust and respect. Despite these admirable intentions, a depraved but attention-grabbing media campaign threatens to derail the prospects of the exhibition.
We are escorted through this sordid but recognisable world by Christian. Most of Östlund's observations stem from Christian's character, but many also extend beyond him. Every crevice of Sweden is inspected, no detail left unchecked. This is no minor project, for Östlund fits so much into the film's 142-minute run time that he can occasionally disorientate the spectator. The Square's sheer audacity, no doubt, is what endeared it to the Cannes Jury, which awarded it the prestigious Palme d 'Or. From a different angle, however, the film sometimes buckles under the weight of its ambition. Surprisingly, I didn't find this a defect of the film. Rather, a sign of Östlund's uncurbed vision and passion for his work.
Claes Bang is remarkable, bringing a rarely seen assurance to the main role. He could have easily played Christian hyperbolically for hollow laughs. Instead, he injects the character with nuance, oscillating between arrogance and vulnerability. It's a tremendously fine performance, in keeping with the film's restrained stylistic qualities. Östlund has also built an impressive supporting cast around Bang, with Elisabeth Moss playing his disaffected lover, Christopher Læssø his naïve assistant, and Daniel Hallberg and Martin Sööder as two opportunistic PR advisers. Dominic West and Terry Notary, known for his motion capture work in War for the Planet of the Apes and Avatar, deliver riveting cameos not to be missed.
In spite of his inability to unite disparate plot strands, Östlund effectively meshes his ideas together to suggest that European society is teetering on the brink of decadence, of self-parody and utter dysfunction. For all of its shortcomings, The Square is a resonant wake-up call. And a frequently amusing and edifying one at that.
The Square is in cinemas from 1st March through Sharmill Films.