Annette Bening had an excellent year in 2017. Following up her wonderful performance in 20th Century Women she returns with an equally admirable turn as Gloria Graham, the Oscar winning actress who worked and thrived during the Golden Age of Hollywood.
Based on his memoir of the same name, Film Stars Don't Die in Liverpool is actually the story of Peter Turner (Jamie Bell), a local working class youth from Liverpool who became Graham's lover in 1981 when she was working in the London theatre scene. Despite Peter being at least thirty years her junior and being unaware of her four previous marriages which had ended in infamy, the two entertain the idea of becoming serious. We meet the two in 1987 as they reunite; Graham is settling into life with the ravages of a cancer diagnosis and Peter is still hanging around the freezing streets of Thatcher's England.
Directed by Paul McGuigan, who has had a lot of success in television, and working off a script by Matt Greenhalgh, this is a perfectly enjoyable tearjerker that follows a familiar formula. It's virtually the same as My Week with Marilyn, and much like that is saved by the wonderful chemistry weaved around some excellent performances.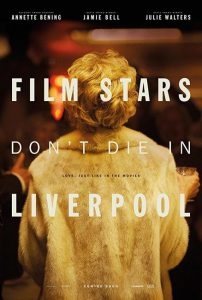 Bening is, as ever, luminous as Graham. She's one of those actresses that elevates anything she works on, here wrestling with Graham's acceptance of her own mortality amid a few childish outbursts. Same goes for Jamie Bell, who we can all agree since Billy Elliot has grown into a wonderful and very interesting actor. Bell and Bening work wonders together – it makes the whole film worth seeing just for these two enjoying each other's company. Julie Walters too, who gets pushed to the sidelines here, is always wonderful. 
Set design is wonderful, creating that cold and dreary malaise that is the constant of every depiction of working class England. This was Britain in the 1980s, when the Iron Lady was smashing unions and the war just like the weather was cold.
Amid this is the cast doing their best Liverpool accents which are often quite funny, with their bouncing inflections and high pitched outbursts. In a setting like this a young man getting involved with a Hollywood legend seemed like a fantasy, yet this is the fantasy that Peter Turner got to live.
Wearing its heart on its sleeve, and not caring about slipping into a few silly moments like breaking out into impromptu performances of Romeo and Juliet, Film Stars Don't Die in Liverpool is a lovely if slightly shallow trip back into the memory of romance. It is elevated immeasurably by Bening and Bell at the top of their games.
Films Stars Don't Die in Liverpool is in cinemas from 1st March through Transmission Films.