The genre of freewheeling baby boomers rediscovering their mojo later in life is a genre gathering steam, and I blame Judi Dench and that blasted hotel. Don't get me wrong, it's good to have a cinematic representation for those facing their twilight years, and Finding Your Feet has its heart and all its limbs in well-choreographed places. In many ways it steers earnestly close to the truth. But with enough talent on screen to fill at least two more Best Exotic Marigold Hotel sequels, it's a shame that the overflowing talents of Imelda Staunton, Celia Imrie, Timothy Spall and Joanna Lumley couldn't be put to better use in this predictable and uninspired attempt at comedy from director Richard Loncraine.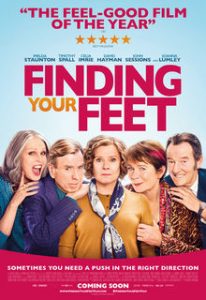 Sandra (Staunton) has just acquired the title of Lady Abbott when her husband of three decades leaves her for another woman. She is understandably angry, distraught and reeling. What were all those years worth? With nowhere else to go, she moves in with her sister, Bif (Imrie), who has a wholly different outlook: what are you going to do with all the years you have left? So consumed in her own bubble, Sandra is in for a shock. Stubbornness is about the only thing they have in common, but central to Bif's livelihood is her neighbourhood dance class where she has a closeknit group of friends, including the unassuming Charlie (Spall), who lives in a barge down the river. At a time in life when loves have been found and lost, Bif is determined to demonstrate that the concept of fun doesn't expire at 65.
What is billed as a vehicle to harness the comedic talents of its stars never quite leaps off the page, though the star power does lend the dramatic elements a surprisingly powerful blow for a film that is as predictable as a waltz. What with Bif's fondness for cheesy platitudes and with wink-wink one-liners drizzled here and there, there is a sense that writers Meg Leonard and Nick Moorcroft are relying on Staunton to lend their starkly signposted material more weight than their words warrant. Joanna Lumley owns her fleeting moments but is heinously underused.
Octogenarian sex lives and technological illiteracy get a work out, and a childhood love of dancing is rediscovered, but where this film redeems itself is in its personal crises, especially that of Charlie, whose fading relationship with his wife with Alzheimers suggests a deeper attention to character that is sadly lacking for the remainder of the film. It is only to expected that this time of life heralds a range of challenges that the younger demographic might not engage with as much, but the predictability of Finding Your Feet is a significant roadblock for anyone.
Finding Your Feet is in cinemas from 22nd February through Entertainment One.