Some of the world's lesser-known issues are given the limelight in this year's selection of Oscar-nominated shorts, with most films in the live action category drawing attention to topics not regularly covered by the media or other filmmakers.
True story recreations are the primary vehicle for these issues, which suit the short film format. Unlike feature films, which can sometimes pad out real-life events by convoluting them with subplots or predictable narrative arcs, the short film medium is more accommodating to honest snapshots of real events as they happened. Their ability to focus on isolated moments rather than entire lives are one of their greatest inherent strengths.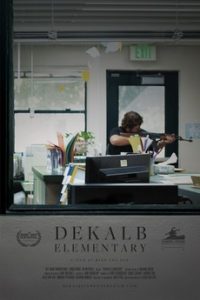 DeKalb Elementary is a perfect example of this; the film is only as long as the events that actually took part in the namesake school in August 2013. The film's empathetic depiction of a white high-school shooter (Bo Mitchell) as a confused and remorseful adolescent targeting a black school might not win over African Americans or the families of school massacres victims, but Mitchell's performance – along with that of the calm and nurturing school receptionist (Tarra Riggs) – make you unable to look away. The dark subject matter is enough to create tension, but Reed Van Dyk's decision to let this scene play out without interruption is what ultimately makes this such a compelling short.
Race relations are also explored in My Nephew Emmett, a time capsule of 1955 Mississippi. The brutality of this racism is presented through the portrait of Mose Wright (L.B. Williams), whose nephew Emmett (Joshua Wright) and his flirtatious Chicago attitude gets him in trouble with a couple of local rednecks. My Nephew Emmett's narrative is not as strong as the others nominated, but its technical brilliance belies director Kevin Wilson Jnr's limited experience.
The third true story of the field, Watu Wote (All of Us), shifts the focus from race to religion, zeroing in on Christian-Muslim tensions at the Somali-Kenyan border. Katja Benrath's story follows Jua (Adelyne Wairimu), the only Christian passenger on a dangerous bus trip to Kenya, whose husband and child have recently been killed by Islamic extremists. Jua isn't given many lines of dialogue, but the film's excellent cinematography and editing are effective at driving the plot forward. Like DeKalb Elementary, this is a film that demonstrates the human spirit amid tension and politics and it deserves to take home an Oscar in its efforts to showcase this.
Chris Overton's The Silent Child is another exceptional short that would also be a worthy winner. Written by and starring Rachel Shenton, it raises awareness about deaf children and their hidden intelligence. Shenton plays a teacher who begins unlocking the potential of four-year-old Libby, whose family has little understanding or empathy for her lack of hearing. It's as touching as it is tragic and is arguably the most important of all ten nominated shorts for the way it makes the audience so invested in something they'd otherwise rarely think about.
In a category filled with films of a serious nature, it's unlikely that Josh Lawson's absurdist comedy The Eleven O'Clock will snare a surprise victory. The 13-minute comic sketch about two men claiming to be psychiatrists is a charming piece of cinema and should, at the very least, edge Lawson closer to the US breakthrough he deserves.
The animated shorts are unsurprisingly less dense than the live action features, with family films dominating the entries. Among these is the much-hyped Dear Basketball, an animated adaptation of a letter Kobe Bryant wrote upon his NBA retirement. It's a nice tribute to the NBA superstar, but Glen Keane's brief flick always feels like it's only one brand name away from being a Nike ad. For the Academy, Bryant's writing is probably not profound enough, nor is the animation strong enough, for this to deserve the gong, but its fusion of high culture with sports deserves praise and is hopefully the beginning of a new trend.
Pixar also gets its token entry into the category with Lou, a heartwarming tale of a primary school 'Lost and Found' box. We've seen Pixar use this formula before, mostly with animals, but lost property boxes feel less deserving of our emotional capital. Dave Mullins' short is not necessarily undeserving of the nomination, but is certainly a fair way beneath Pixar's best tear-jerking efforts.
Revolting Rhymes is the other children's film to earn a nomination, however it too doesn't feel like a worthy winner. The made-for-TV feature overstays its welcome a tad, trying to win over viewers with its cartoonish computer animation and intricate inter-woven narratives. For all its glamour, its greatest strength remains Roald Dahl's canonical words, which are unfortunately lost at times amid director Jakob Schuh and Jan Lacauer's distracting additions.
Max Porter and Ru Kuwuhata's Negative Space is the clear standout in the animated category, a compact tribute to a father told through the motif of suitcases. The stop-motion animation says a lot with few words and lets its aesthetic features complement its narrative rather than the other way around. The French short has a simple message and a few nice gags along the way, and doesn't waste a second of its brief five-minute running time.
If there is a left-field winner, it will possibly come from Garden Party, a visually-spectacular French animation that stars a large cast of frogs. In true French style, the film isn't afraid of showing off, wowing audiences with its perfect CGI recreations of its amphibious leads. Its plot punchline won't surprise everyone, but the physical way in which this punch is delivered is likely to remain with viewers. Containing more mature content than most other films that get nominated in this category, a victory to Garden Party would not only be an acknowledgment of high production values, but be a powerful sign to directors that animated shorts don't have to be for kids.
The Oscar Animated Shorts will be screened at Cinema Nova from 22nd February.
DeKalb Elementary: 4 blergs
My Nephew Emmett: 3 blergs
Watu Wote (All of Us): 4 blergs
The Silent Child: 4 blergs
The Eleven O'Clock: 3.5 blergs
Dear Basketball: 3 blergs
Lou: 2.5 blergs
Revolting Rhymes: 2.5 blergs
Negative Space: 4 blergs
Garden Party: 3.5 blergs