Having already taken out two Golden Globes, Greta Gerwig's new film Lady Bird is her second feature as a director and may make history in this year's Academy Awards, as Gerwig is only the fifth woman ever to be shortlisted in the best director category in its ninety years.
In this coming-of-age narrative set in 2002, Sacramento, California, Lady Bird conjures the awkwardness of Napoleon Dynamite  and the darkness of teendom found in Boyhood. This is not about a boy though, but a 17-year-old pink-haired thrifty girl called "Lady Bird" or, Christine (Saoirse Ronan).
Lady Bird is a likeable but challenging character. Having a more straightforward relationship with her father (Tracy Letts), this works best as a mother (Laurie Metcalf) and daughter exploration. Their relationship is the spine of the narrative and really hits hard. Gerwig simply does not apologise for their behaviour, but lets you reason why the characters are in these scenarios and understand the depth to their vulnerabilities. You are not here to connect to a particular side or character either, but to form an objective perspective.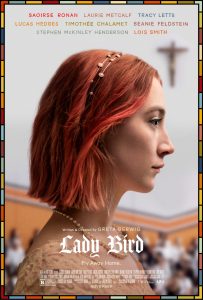 Suggested to hold some truths, you get a sense of a biographical piece on Gerwig. Throughout it feels like a retelling of teenage and college years, which makes this so personal and dark. It shows how awkward and icky growing up can be, not to mention the crushes and/or the musical theatre lessons – this and the pink hair part are at least true.
And when it's dark it is through honesty. This is the way Gerwig's learned perspective is able to show people for who they really are. Literally you get this through the lack of makeup. Ronan deliberately showed off her real acne scars to play a real looking teenage girl.
Its honesty is also shown through its nuanced characters. Gerwig uses the old cliche, don't-judge-a-book-by-its-cover analogy on Kylie Scheible (Timothée Chalamet) who is Lady Bird's brief de-flowerer. Chalamet is brilliant as the existential hipster who is really just a jerk. You can almost sigh and say, 'Typical! I know someone like this'.
Perhaps more complex is Lucas Hedges who plays Lady's first boyfriend, Danny O'Neil. He is the nicer of the two boyfriends, but before judging his later actions Gerwig makes you reevaluate what they will mean to him and the upbringing Danny has been subject to.
Lady Bird is really about Ronan and Metcalf and their portrayals. They are natural and heartfelt. You could understand the tensions between this mother and daughter who have grown apart but both share the same love and stubbornness. Their characters are cold and detached to each other but that is why this journey is so great and interesting. It is especially personable having grown up as a teenage girl and going through some awkward stages whilst trying to connect to the outside world.
Fingers crossed that Lady Bird polls well at this year's Oscars, not as a tactical 'girl power' tribute, but to see the film awarded for its achievement in storytelling, its honesty, and its personality.
Lady Bird is in cinemas from 15th February through Universal Pictures.