It's finally coming to an end. And for that we can be thankful. The last instalment in this woeful franchise, Fifty Shades Freed is directed by James Foley, responsible for the last POS. The finale sees Anastasia Steele (Dakota Johnson) marry Christian Grey (Jamie Dornan) and have lots more sex.
And that's pretty much it. Despite the 'climax' the posters promised, there really isn't one outside of the sex scenes. Granted, screenwriter Niall Leonard probably didn't have a lot to work with based on the shitty source material by his wife, E.L. James. Ana and Christian marry, go on a honeymoon, come back early because bad guy Jack Hyde (Eric Johnson) has made a reappearance, Ana gets pregnant, Christian doesn't want it because 'YOU'RE ALL MINE COS I'M A PSYCHO' (I'm paraphrasing), and then there's a brief hostage situation orchestrated by Jack. One of Christian's employees tells Christian that "He was in foster homes". Christian's response: "So was I". Subtext: BUT LOOK HOW GREAT I TURNED OUT! After the weakest climax ever seen in cinema, Christian realises that maybe he wants that baby after all. Because there's nothing like a brief hostage situation to make a man realise he doesn't want his wife to abort their child.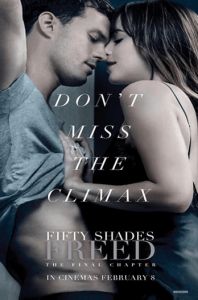 Defenders of the film have insisted that the third instalment at least is like, totes empowering to women, you guys! Never mind that Christian continues to be a controlling possessive douche who uses sex (or the act of withholding it) as punishment. He gets angry at Ana for not changing her last name immediately because clearly she exists as no one other than Mrs Grey now. He's mad when she sunbakes topless on honeymoon in Europe because no one should see her breasts except him. He has her followed 24/7 by security and gets pissed off when he finds out she went – oh no don't let it be so! – out for dinner and cocktails with a girlfriend! She calls him out on his bullshit from time to time, sure. But it's still painted as a thrilling and romantic relationship where they lick ice cream off each other's bodies because THEY'RE JUST SO HUNGRY FOR EACH OTHER GOD DAMMIT.
In summary, the film is 60% sex, 30% Christian being a possessive dick, and 10% brief kidnapping. It ends and it's almost shocking because it feels like literally nothing has happened. But then you realise, IT'S THE END. And with Fifty Shades Freed we are FINALLY FREE FROM THIS CRAP. And that's the most satisfying part about it.
Fifty Shades Freed is in cinemas from 8th February through Universal Pictures.