In his harrowing and quite controversial debut feature, South African director John Trengove has created a throughly confronting addition to the current crop of LGBT cinema that has flourished in the past few years.
The film is set in South Africa and spoken in the traditional tribal language of the Xhosa people, one of the tribes that uses the clicking noises which is a thoroughly fascinating thing to hear for a whole film. Trengove has used entirely non-professional actors to tell this story, where the young men of this tribe are taken into the wilderness for the ceremony which will initiate them as men in the eyes of their elders. What follows is very uneasy look into the clash between modernity and tradition in current South Africa and the way that masculinity – and homosexuality for that matter – seems to be caught in the middle of tribal politics.
Without wishing to sound like this is written in a haze of white guilt, The Wound is a difficult film to review because of the strong reactions it provokes. Seeing these old and sacred traditions up close is a thoroughly confronting experience. There's a lot to unpack here and the aversion to seeing it may sound like a white guy lampooning a pack of uncivilised barbarians for their savage ways.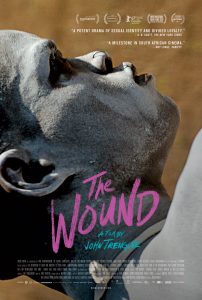 The initiation ritual is called 'ukwaluka'. This rite of passage is for every young man of this tribe, marking the point when they transition from childhood to being an adult. This is secret men's business, and in its native South Africa the film and John Trengove have been the subject of major debate for the choice to actually show the ritual – which involves the young men being lined up, having their foreskins cut off and for the next eight days staying in small mud huts being watched over by the men of the tribe. No water, no sleep, no pain killers.
The uneasy question that I wrestled with for about a week after seeing The Wound was trying to figure out if I reacted against what I saw because I'm: a) from the other side of the world, b) white and c) privileged. Or maybe the adverse reaction was because ukwaluka really is barbaric and horrible, for if you strip away all the culture and history the act itself is tantamount to a group of young men being tortured. Forget the debates we have in our First World bubbles that range from discussions about men expressing emotion to sociology essays about the harmful effects of figures like Batman – this is what real toxic masculinity looks like.
It's vexing stuff, but it's always great when a piece of art truly makes the viewer think and this stayed with me for a very long time. So many things seem true to life; Trengove has approached this with hyper realism which is helped immensely by the real Xhosa people who play these characters and the photography by Paul Ozgur.
Tradition and modernity – it's a subject that seems especially complicated in a tribal setting – like how one of the boys going through his initiation sneaks away for a while to listen to hip hop on his iPhone. The Wound is a difficult watch for a few reasons, but it chronicles something that very few people have ever seen and offers a starkly fascinating glimpse into this old and unique culture.
The Wound is in cinemas from 8th February through IC/OT Entertainment.