Based on the real life story of poker madam Molly Bloom, Molly's Game is writer Aaron Sorkin's directorial debut. Like Sorkin's previous screenplays, this one is fast paced , dialogue heavy and very entertaining. But the standout feature is Jessica Chastain in the title role.
Molly's Game documents the rise and fall, although mostly the fall, of Molly Bloom. The film starts with Molly (Chastain) looking to secure the services of a decent lawyer, she wants Charlie Jaffey (Idris Elba) but he's not too keen to pick up a client who's personal life is splashed across the tabloids. Molly is in trouble with the FBI, her career running high stakes poker games is over, she's broke and she's facing prison. Told through flashback, Molly selectively fills Charlie in on her back story in an effort to convince him to take her case.
Molly was a professional skier, an Olympic hopeful with the world at her feet. Despite recovering from injuries in the past, she suffers a devastating, career-ending blow. A back injury forces her to retire from competitive sports, and so it's back to school for Molly. Before that she wants a year off in the sun, to make a little money, maybe even make a few friends. In Los Angeles, Molly lands a job as an assistant to a sleazy real estate guy, part of her job is to help him run his weekly poker game. When he tries to force her out, she takes over the game, along with his celebrity player list. Before long, Molly's game is the biggest in town. But again, Molly is cut out by the boys. Her celebrity draw card, Player X (Michael Cera), ditches her and she has to start again. This time it's New York, and instead of celebrities Molly's table is filled with stockbrokers and bankers. But when the Russian mafia join the game, Molly's in trouble with the FBI. By this stage she has a drug habit and some violent people are showing an interest.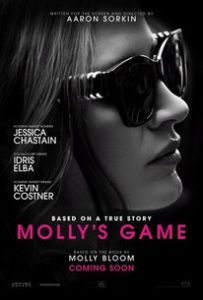 Like many of Sorkin's previous screenplays, Molly's Game is very 'wordy': long monologues, exposition by description, hard to catch a breath. There is telling, retelling and then spelling everything out all over again – just for good measure. This works on a certain level, as there is a key theme to the film which is hard to reveal visually. When Molly arrives at Charlie's office, she has nothing left to loose. All she has is a reputation for discretion, and in order to demonstrate her discretion she needs to spell it out.
Jessica Chastain is an excellent casting choice for the role of Molly, she allows the character class and intelligence, giving Molly's need to keep tight lipped about her past a degree of credibility. Chastain can carry off the dialogue with dexterity, the role is remarkably similar to her part in Miss Sloane.
The dialogue heavy screenplay has its advantages, it's a good strategy in a film about poker, where so much is unsaid it works well to have a narrator to explain the nuance of the game, as well as the larger stakes at play. But the strategy becomes tiresome – at more than two hours, Molly's Game is a lot of explaining, and re-explaining – and then explaining again.
Molly's Game is in Australian cinemas from 1 February through Entertainment One.