Having previously directed Studio Ghibli's final film When Marnie Was There, Hiromasa Yonebayashi has returned to our screens with the debut feature of Studio Ponoc. Based on the children's book by Mary Stewart and brimming with personality, this is a tried and true offering of Japanese animation which marks Studio Ponoc as a fair successor to Ghibli.
Mary (Ruby Barnhill, the young lead of last year's BFG) has just moved to the country and is spending the remainder of the school holidays with her great aunt. She's a precocious young girl, with billowing red hair and a love of a pair of cats that hang around the homestead where she's started living. While exploring the woods around her new home she discovers a luminescent blue flower that brings a broomstick to life and soon takes her to a castle in the clouds. This is Endor College, kind of like a cut-price Hogwarts, that teaches the magical arts to its selected students. With the head teacher (Kate Winslet) and professor (Jim Broadbent) fascinated with Mary's previously hidden talents, she soon discovers the hidden secrets of Endor College and her own upbringing.
An entertainment juggernaut the likes of Ghibli can't be an easy act to follow. Ponoc is the child of Yoshiaki Nishimura, previously a producer at Ghibli who worked on some of their best films. Mary might not reach the heights that Ghibli managed with genre masterpieces like Grave of the Fireflies or Princess Mononoke, but with the gorgeous animation and imaginative visuals this is still everything we know and love about Japanese animation.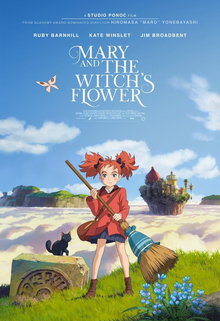 Voice work is all good from this crop of excellent British talent. Winslet is nearly unrecognisable as the matronly headmistress and Broadbent's distinct and wonderful voice is used to full effect. Ruby Barnhill was an inspired choice, but her working class Northern accent doesn't quite fit in with the rest. The standout is Ewen Bremner, who with Trainspotting 2 and Wonder Woman had an excellent 2017, lending his well rounded Scottish drawl to the best supporting character. As much as this might come off like the grumblings of an inner-city Melbourne weeaboo – the English dub of Japanese animation usually doesn't work half as well as the native voice actors – if the choice is available go with the Japanese version.
For the past thirty years we've been spoiled for choice by the cinematic banquet that Japanese animation has given us. Ghibli has been exceptional not only compared to other anime but animation the world over. Mary and the Witch's Flower is, if nothing else, a comforting reminder that even with the luminaries over at Ghibli putting down their brushes, anime is still in good hands.
Mary and the Witch's Flower is in cinemas from 18th January through Madman Films.