You may know the phrase 'Big in Japan', perhaps from a 2014 film, a 2009 TV Series or even a 1985 song by Alphaville. It refers to a foreigner known as gaijin tarento, a person who has reached stardom exclusively in Japan.
Big in Japan is a new documentary looking at this phenomenon. It is made by three friends, Lachlan Mcleod, Louis Dai, and writer, producer and the film's subject, David Elliot-Jones. Taking four years to make, the filmmakers gravitated towards  a very Louis Theroux tone. Having this familiar voice does prove authentic but depending on where you sit with Louis, it is a little irritating. However, Big in Japan finds its own crucial statement and style, though it may be limited.
The narrative is about 'ordinary Dave' who is trying to make it big in Japan. For the filmmakers who grew up in the naughties, their concept looks at culture's obsession with reality TV and the rise of the ordinary person becoming famous through social platforming. The film also follows three other characters who have already made it big in Japan – we meet a man from the States (The Beast), a girl from Canada (Kelsey Parnigoni), and a guy from Australia (Ladybeard).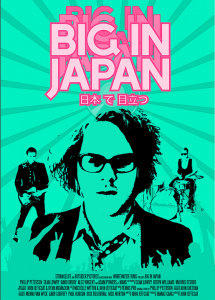 The foreign talents are explored through their endless publicity shootings, meet and greets, and lack of social time. This is where Big in Japan really picks up and becomes quite interesting, especially in how it explores a darker side to fandom and the physical demons that plague these performers.
Although this isn't the most unique study of Japanese culture and it does feel like you could replace this particular topic with any significant subculture, this trio do provide an insider perspective. This is especially relevant with Parnigoli, who is famous for being an idol (a term that refers to a young girl who dresses as a virginal manga character for her much older male crowd).
Comparatively the documentary Tokyo Idols, which also looks at idols, is very different. It holds back the truth. The Idols documentary feels like it's embracing more than problematising this subculture. It is only through Big in Japan, that controversies like fans having complete control over their idols (an idol must sign a contract to not have a boyfriend, amongst other restrictions), really make you consider the politics and costs of this culture.
A lot of Big in Japan is on the meta side. Time is spent on YouTube looking at footage of foreign talents which becomes the general aesthetic of the documentary. Whilst it may be guilty of feeling like a cultural studies elective on fandom or the 'internet', when it goes there, Big in Japan has a voice of its own. Hopefully it's the one you are looking for.
Big in Japan starts its Australian screening tour on 3rd January.

Big in Japan (2018) – OFFICIAL TRAILER from Walking Fish Productions on Vimeo.