Three Billboards Outside Ebbing, Missouri, written and directed by Martin McDonagh, is both emotionally raw and hilariously irreverent. And despite its somewhat cumbersome title, it is confidently executed across the board. Propelled by a powerful performance from Frances McDormand, it grapples with several intersecting weighty themes: rape and murder, grief, depression, racism. But despite this emotionally complex terrain (and similar to McDonagh's previous films In Bruges and Seven Psychopaths) Three Billboards is a rich mixture of pathos, dark humour and just the right amount of sentimentality. It is robust, forceful filmmaking, and is an early contender to be one of the year's most memorable films.
Mildred Hayes (McDormand) is angry. Seven months ago her teenage daughter was raped and murdered. But no progress has been made and no suspects have been identified. In order to remind her small town of this, she places three billboards just outside of town. The first one says 'Raped while dying'. The second one asks 'And still no arrests?' And the third enquires 'How come, Chief Willoughby?'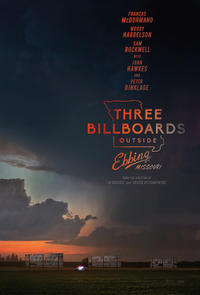 The provocative billboards immediately cause a stir. Chief Bill Willoughby (Woody Harrelson) does not take lightly to accusations of incompetence or indifference, although he insists that everything that could have been done was done. He also has to deal with Officer Jason Dixon (Sam Rockwell), whose entitlement and bigotry manifests as a particularly off-putting brand of laziness and ineptitude. At the same time, Mildred has to deal with her callous ex-husband Charlie (John Hawkes), who is now dating someone decades younger, and raising her despondent teenage son Robbie (Lucas Hedges), who does not need to be reminded of his sister's violent death.
The film's deft balance in tone originates in McDonagh's sturdy direction and generous screenplay. They provide the necessary formative ingredients for the film's main strength to flourish: its impressive ensemble of performances. McDormand is superb in the lead role. Her indignant rage at the lack of progress being made on her daughter's case is palpable. She is uncompromising and stubborn, but it all comes from a place of deep-seated restlessness and anxiety, of an inability to move on. It is written all over her face, and not just in defiant statements and profane wisecracks (of which there are many). Even in quieter moments there is a tangible weariness to her demeanour – a deeply felt fatigue emanating from her grief and contempt that makes her singular focus all the more tragic.
Harrelson and Rockwell are both excellent as well. Harrelson is weary, pragmatic but also sympathetic in shouldering the responsibility of being one of the town's authority figures. He puts up with Officer Dixon's incompetence with a dry sense of humour, yet is also aware of his flaws and shortcomings. And Rockwell's performance is characterized by an ambivalent arc. Officer Dixon's more unsavoury qualities – his unfounded privilege, stupidity, and alcoholic, violent tendencies – are never shied away from. In fact, they seem to initially define him. However, as the film progresses, other qualities come to light – vulnerability, a willingness to grow. These revelations by no means exonerate him, but they add layers to a nuanced portrayal that is compelling to watch, even if we are not always entirely sympathetic to him.
The performances flesh out the film's themes with shaded complexity, and they give Three Billboards its warmth, depth and humanity.
Three Billboards Outside Ebbing, Missouri is in cinemas from 1st January through 20th Century Fox.