It's a common complaint that cinema has nothing new to offer these days. And that's wrong, because if you care to expand your viewing horizons there are plenty of fantastic films out there. Still, there is a lazy kind of cinema that offers reboot after reboot in the quest of the big bucks, and it can be quite tiresome. Many argue that some original films should never be touched again for fear their nostalgia will be thwarted by a less than stellar reimagining with a subpar cast. Sometimes these complaints are just fanboys crying salty man tears – particularly with any reboot that recasts male roles with women. But sometimes the concern is real. Case in point: remaking a Robin Williams film without Robin Williams. And recasting it with The Rock and Kevin Hart. Many groaned at the prospect, this reviewer included. Nevertheless, films are (sometimes) remade for a reason other than money, and sometimes it's fun to see what 20+ years does to a concept.
Set in the current day, it naturally makes sense for Jumanji to have progressed to a video game format. The game is found during an after school detention by four teens. Spencer (Alex Wolff) is a risk-averse nerd who is caught helping his once-best friend and jock, Fridge (Ser'Darius Blain) cheat by writing an essay for him. Martha (Morgan Turner) is the girl he is crushing on, who is almost as self-conscious as he is. But popular selfie-obsessed Bethany (Madison Iseman) makes up for them both with her excessive self-love. Bored with the job designated to them by the school principal, they take a break to play Jumanji, finding themselves pulled into the game.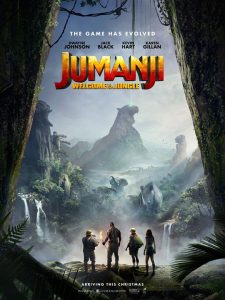 The four teens wake up in the jungle, unrecognisable as they've taken the form of their alter egos in the game. Spencer now takes the form of The Rock (Dwayne Johnson), who is suddenly stronger and faster than Fridge who has shrunk to about half his size to end up in Kevin Hart's body. Martha is aghast to find her midriff is showing in the form of Karen Gillan, but none are more upset than Bethany, who discovers she is a short, fat, middle-aged man in the form of Jack Black. (Although some consolation is being able to pee standing up.) After an initial freak out and a visit by park ranger, Nigel (Rhys Darby), the four must work together to finish the game and get back home.
If you're going to watch this and compare it with the original then you're just setting yourself up for disappointment. This has to be enjoyed as a film on its own merits. There are a few throwbacks to the original but this is kept to a minimum – this version doesn't try to rely on nostalgia to make it work. It obviously isn't as good as the original but director Jake Kasdan still provides good solid enthralling fun for a new generation. Instead of rolling the dice, each character is equipped with three lives to last them the journey. So much for YOLO.
Jumanji: Welcome to the Jungle is packed with humour. Jack Black, The Rock and Kevin Hart are pretty reliable for a laugh and the writing team, led by Chris McKenna, throw in some worthwhile jokes. Don't expect anything too intelligent, but honestly, haven't all females wondered what it would be like to have that extra appendage?
When they're not cracking jokes, the team are battling everything the game throws at them with fast-paced, exciting action scenes. I was surprised to find myself so on edge for a good part of the film, considering it was obviously always going to end up okay. That's probably a good indication of how much it will excite younger audiences, but be mindful: this is for older kids and teens. Unless you're cool with your kids hearing dick jokes and seeing people explode.
If you're prone to venting about how wrong it is for the Ghostbusters to be female, or that the new Star Wars films got everything wrong (even though the last two have been the best ones yet IMHO), then clearly you should give this one a miss. But if you're interested in seeing a new take on a fun concept, buckle in and enjoy the ride.
Jumanji: Welcome to the Jungle is in cinemas from 26th December through Sony Pictures.