"Ladies and gents, this is the moment you've waited for".
And so begins this year's second lavish musical extravaganza, The Greatest Showman. But have we been eagerly awaiting this one? The trailers were promising, but with an unfamiliar score and a first time director it seemed a risk. Would this just be another Hugh Jackman letdown in the vein of Pan?
HELL NO. This IS the greatest show! And this reviewer's favourite film of the year. That's not to say everyone will be a fan. The opening sequence is reminiscent of Moulin Rouge!, a film everyone seems to either love or hate (LOVE LOVE LOVE for this reviewer), which should be some indication of whether or not it will rock your world. The Greatest Showman doesn't end up being quite as manic as Moulin Rouge! and it has the bonus of an original score, but there are certainly a few parallels.
Not to be confused with the musical Barnum, The Greatest Showman is written by Jenny Bicks and legendary Bill Condon, and stars Hugh Jackman as P.T. Barnum, founder of the Barnum & Bailey Circus. Determined to find success and wealth in New York, he purchases a museum, turning it into a circus full of unique and unusual performers. He achieves his long sought after success, but becomes consumed by this, sacrificing time with his wife, Charity (Michelle Williams), and his two daughters (Austyn Johnson and Cameron Seely), for his new star attraction, Jenny Lind (Rebecca Ferguson).
Criticisms of the film have focused on the lack of depth in its storytelling, and the artistic licenses taken with the story. And it is possible that those familiar with P.T. Barnum's story may take issue with this. But for those of us who are unfamiliar, it is perhaps a moot point. Who cares about getting the story right when it is just such a sumptuous feast of colour, music, star power and spectacle? And that's not to say that it's empty on emotion or message either – wonderful (even if a little simplistic) messages about letting your freak flag fly, as well as fathers choosing work above family, are poignant.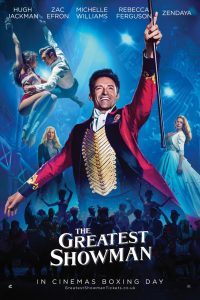 Hugh Jackman is right back where he belongs as Barnum, and unlike when he headlined Les Misérables and didn't quite measure up to all the Jean Valjeans we may have seen before, he is perfect in this role, with his voice a great match with Benji Pasek and Justin Paul's songs. Zac Efron and Zendaya dazzle with the combination of slick voices and stunning beauty, while Broadway actress Keala Settle gets her belt on as the bearded lady, leading the pack of circus performers in multiple show-stoppers. Michelle Williams is heavily auto-tuned but she's a delight as Charity. But perhaps the biggest highlights of the film are the kids – Ellis Rubin as young Barnum has a voice that's almost too good to be believed, and Austyn Johnson and Cameron Seely as Barnum's daughters are absolutely gorgeous.
It seems disappointing that Rebecca Ferguson should play "the greatest singer in the world" and be dubbed for the film. But to be fair, anyone cast as the greatest singer in the world would surely have copped criticisms, unless maybe it was Adele or someone of similar ilk. Rebecca Ferguson does reportedly have a music background and did sing during filming, but requested that the role needed dubbing (and it is done so sublimely by Loren Allred).
Pasek and Paul, responsible for last year's La La Land and Broadway's smash hit Dear Evan Hansen, contribute a fantastic score. Traditionalists may find it hard to stomach such 21st century music stylings with an old-fashioned story, but it works a treat for those who are open to it. Every musical number is absolute joy, aided by magnificent costumes, production design and choreography. It's hard to believe Michael Gracey is making his directorial debut here, but it's unsurprising that he has a background in music videos.
This is a movie made for lovers of contemporary movie musicals. And with Mary Poppins Returns and Wicked slated for release for the next two Boxing Days, things are looking mighty fine for this crowd. If you want to be dazzled, look no further.
The Greatest Showman is in cinemas from 26th December through 20th Century Fox.