"Mrs Brown says that in London everyone is different, and that means anyone can fit in." 
That was Paddington Brown in 2014. Clearly Mrs Brown was not a Leave voter. She always did have such good sense. And presumably we can thank the Browns for Paddington not being disheartened by the attitudes that have come out of the woodwork against people or bears such as himself in recent times. He is arguably Britain's most high-profile migrant (even if he is voiced by Ben Whishaw) and had a hard time getting settled initially, but as Mrs Brown says, you'll find the good in people if you look for it, and that's more than a fitting sentiment to take into a new year.
Even for all the Browns' accepting qualities and their quiet suburban lifestyle, Paddington's willingness to please is just as often betrayed by his clumsiness, so whether trouble finds him or he finds trouble is a chicken-and-egg conundrum. It must be tough acclimatising to a world designed for hands and not paws, but it doesn't stop him from trying. Finding a job is tough though. He desperately needs one so he can pay for a rare antique pop-up book of London for Aunt Lucy's birthday (Imelda Staunton). Her dream was always to visit London herself, so if in her old age she can't make it herself, Paddington wants to at least take it to her. But when the book is stolen and Paddington is framed, it's up to the Browns to figure out who the real culprit is and what secrets are hidden in this apparently very important book.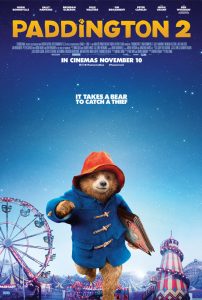 It will be hard to find a more satisfying and compassionate family film than Paddington 2 this summer, which retains the toy-house style from the Wes Anderson school so well utilised in the first film. Far from resting on their laurels, writers Paul King (who also directs) and Simon Farnaby take the story in wholly new directions with a villainous star turn from Hugh Grant elevating this above its predecessor. Grant is certainly enjoying himself as Phoenix Buchanan, a narcissistic washed-up actor with a knack for quick costume changes, whether it be an armoured knight, a nun or a hobo. Add to this a madcap treasure hunt through London's most iconic landmarks, a surprisingly enlightening stint in prison for Paddington, and the bizarre delights of a calypso band popping up for the odd musical interlude, and this adds up to something altogether less macabre edge than The Grand Budapest Hotel, but the inspiration is evident and welcome.
This kind of mix of animation and live action could be jolting, but the colours of Paddington 2 are so vivid and the sets so inventively varied that the addition of a bear riding a dog somehow doesn't seem so out-of-the-ordinary.  Not so much the gloomy overcast metropolis, London is here portrayed as intimate but dynamic with a enigmatic cast of characters played by a who's who of Britain's acting register, including Sally Hawkins and Hugh Boneville as Mrs and Mr Brown. And while anyone in Hollywood with a few too many million dollars up their sleeve might have been tempted to overplay the possibilities for special effects, this is an altogether gentler affair. Simple slapstick gags such as that involving a ladder, a bucket of soap, a rope and the forces of gravity bring this film back to earth and into line with the storybook origins of Michael Bond's beloved bear. Paddington is a bit clueless, a bit clumsy but always well-meaning, which means there is more than a bit of Buster Keaton in him.
This may be a story about a refugee struggling to make it in a country that still doesn't altogether trust him, but thankfully this film resists the urge to smother the kids its aimed at with political commentary. You could read the narcissism and narrowmindedness of Hugh Grant's self-centred veteran to be representative of a broader cultural statement about Britain's inward thinking and paranoia … but what better way to take the fun out of it than to give an academic reading?  There are nods and winks for mature viewers, but really this is just great family fare with a big heart that everyone can enjoy.
Paddington 2 is in cinemas from 21st December through Studiocanal.