For many of us, childhood is the most wonderful of times. It's when our curiosity peaks, when our uninhibitedness leads us to forge countless friendships. It's when our hunger for life and experience is unimpeachably great. It should be no surprise then, that the experience of childhood has been a recent subject of cinematic interest. Deniz Gamze Ergüven's Mustang and the Oscar-winning Room both explored the resilience of children caught up in profoundly lamentable situations.
Sean Baker's The Florida Project continues this theme with sensitivity and beauty. Moonee (Brooklynn Prince) is six years old, living in financial and social disadvantage. She only has her loving but self-destructive mother, Halley (Bria Vinaite), who is jobless. Her only way of providing for Moonee is selling wholesale perfume outside wealthy country clubs. They live in a small motel room in the 'The Magic Castle', managed by the affable Bobby (Willem Dafoe). The title of the establishment is misleading, as a honeymooning South American couple discover as they step out of a taxicab. The wife, a lifelong Disney fan, is disgusted. "I'm not staying here," she roars at her husband. The motel is cheap and tacky, but it's one of a few places the economic underclass of America can afford to live in.
Though less explicit than Ramin Bahrani's post-GFC film, 99 Homes, The Florida Project paints a stark portrait of contemporary American life, of the abject failure of the 'American dream' to be inclusive. It's telling that Halley and Moonee live mere metres from Disneyland, yet it feels distant and inaccessible. In essence, it's lightyears away; a paradise apparently unreachable. Their world is almost exclusively one of diners, discount stores and dingy motels.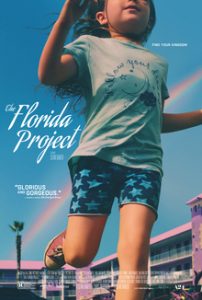 None of this seems to bother Moonee. She is shielded by a distinctly childlike innocence and optimism that filters her experience. All she wants to do is hang out with her gang of friends – Jancey (Valeria Cotto), Scooty (Christopher Rivera) and Dicky (Aiden Malik) – and take off on adventures. Their unsupervised travels take them to sweeping grasslands, abandoned properties and ice-cream kiosks. The gang are mischievously cute, and their admirably pure outlook is confirmed when Moonee gives Jancey – who lives in a nearby motel – a tour of 'The Magic Castle'. "The elevator smells like piss," Moonee announces with her typical confidence. You can tell she's far more amused than grossed out by it.
And, of course, they've got Bobby looking out for them. He's their friend and de facto guardian, making sure Moonee and her friends are safe. In an understatedly heroic scene, Bobby chases away a predatory man who's gleefully watching the kids play. However, they also have a habit of getting on his nerves: dripping ice-cream on the reception floor, accidentally shutting down the power supply to the motel, and playing hide and seek under his desk. Willem Dafoe (the only established actor in the cast) shines as Bobby in an uncharacteristically compassionate and humanistic performance. His facial features are usually put to work to create venomous or hard-nosed characters. Not here. Dafoe shows a soft side that we haven't quite seen before. Although, this isn't to suggest Bobby is a one-dimensional character. He is a fantastic influence on the kids, but he clearly has limited powers to affect their material circumstances, or better, their futures. Sometimes we catch Dafoe long-faced, fully aware of Bobby's incapacity to grant Moonee a promising future.
A great deal of credit is owed to director-writer-editor-producer Sean Baker. With The Florida Project, he has surely hit the pinnacle of his social realist art. The readily-recognisable improvisational style – seen before in his iPhone 5-shot Tangerine – affords the film an authenticity needed to pull off the exploratory feel Baker is searching for. It helps that newcomers Brooklynn Prince and Bria Vinaite provide revelatory performances, guided by a naturalism that makes both of them seem indivisible from their characters. They aren't playing, so much as being.
'The Magic Castle' is painted in a garish purple and a sickly yellow. It's a tasteless dump in a rather undesirable part of town. But Moonee doesn't see it that way. For her, Bobby is the king of the castle, and the place as grand as any palace in 18th century France. And it's all because that's where her friends and family are.
The Florida Project is in cinemas from 21st December through Icon Film Distribution.