Mudbound is an intimate, sprawling epic. This might sound like a paradox – how can a film be both small and large scale, both grounded and sweeping? But, in the case of Mudbound, these two sensibilities are reciprocal – their interaction only strengthens the film's power. It focuses on two farming families during World War II – one white, one black – and the hardships they endure because of, and with, each other and the social norms they are constrained by. Director Dee Rees, who also wrote the screenplay with Virgil Williams (adapted from the novel of the same name by Hillary Jordan), has produced a film of searing vision and emotional potency. Of particular note are the immersive cinematography, intimate screenplay and excellent performances – masterfully combined to produce a resonant historical snapshot of race and class in America.
In the late 1930s, engineer Henry McAllan (Jason Clarke) is introduced to introverted, sheltered Laura (Carey Mulligan). Despite not being particularly attracted to the more emotionally distant Henry, Laura marries him anyway, and they move together to a farm on the Mississippi delta with Henry's traditionalist father Pappy (Jonathan Banks), who seems to embody many of the prejudiced social values of the time. They eventually have two daughters, but they struggle with the capricious environment and adjusting to an isolated and strenuous life working on the land. On a neighbouring farm, Hap Jackson (Rob Morgan) and his resilient wife Florence (Mary J. Blige) live with their three children, the oldest of which is Ronsel (Jason Mitchell). The Jacksons are only the latest in a long line of ancestors who have worked on their plot of land, but they do not own it. When their mule dies and Hap breaks his leg, Florence is forced to work for the McAllans for additional income. When World War II breaks out, both Ronsel and Henry's younger brother, Jamie (Garrett Hedlund), are sent overseas to fight in the war – Ronsel driving tanks, Jamie flying planes. When they return they face their own difficulties dealing with the trauma of the war and the ennui of rural living.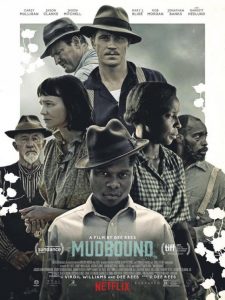 Firstly, the film is visually immersive. Rachel Morrison's adept lens is superb at capturing the deceptive beauty and tranquillity of the land, but also its alienating indifference. The colour palette is dominated by various shades of brown – rickety wooden houses, tilled stubborn soils – that lend the film a groundedness that resonates with the insights we gain into the characters' internal lives. There is also a sense of intimacy of the visual spaces – the houses each family inhabits, the open-air, unfinished church the Jacksons regularly attend. Morrison's cinematography is critical in creating a richly realised world.
This visual sensibility only enhances the screenplay's power. The film does not shy away from the more confronting realities of its historical context – the drab, backbreaking work of living on the land, the racial discrimination and oppression, and the psychological and physical toll of both. It is generous in providing insights into each of the characters' internal thoughts – their anger, desires, regrets and hopes. Much of this is achieved by voiceovers from the various characters as they narrate their lives. Their experiences have made them pensive, even resigned, but have also instilled a resilient wisdom.
All of the performances are strong. Clarke's performance is level-headed but still dynamic in its nuances, and Hedlund and Mitchell are both charming, even when they return from the war changed men. But the film's most memorable performances arguably come from Mulligan and Blige. Mulligan's portrayal is layered and textured as she tries to make the best life for her children despite quietly wishing for more. And Blige is warm and spirited despite the hardships Florence endures; her perseverance is uplifting.
All of these elements, and more besides, make Mudbound formidable, moving film-making. And even if is not being shown widely on the big screen, it loses none of its potency or relevance.
Mudbound is now screening on Netflix.