With filmmakers hungry to find their place in Christmas culture tradition, it's inevitable that the masses will be force-fed platters upon platters of festive films over the coming weeks. While Bharat Nalluri's clever biopic The Man Who Invented Christmas won't go down as a Christmas classic, its subject matter focus on Charles Dickens' A Christmas Carol – an icon as synonymous with the festive season as Santa Claus and stockings – will ensure that it at least finds a receptive audience.
The film's title – taken from the Les Standiford biographical non-fiction book of the same name – is slightly deceptive, in that writer Susan Coyne never explicitly proclaims Dickens as a Christmas-specific hero. But filmgoers less particular about the title should enjoy the ride, in which Nalluri invites audiences into the world of Dickens, his life story, and the struggles of putting A Christmas Carol together over a matter of weeks.
Nalluri's drama relies heavily on Dickens' famous text, interweaving Dickens' tale over the top of his own. Indeed, it wouldn't be out of place to label The Man Who Invented Christmas an adaptation of A Christmas Carol rather than a conventional biopic. In his re-telling of Dickens' personal story, Dickens himself is the embodiment of Scrooge and is forced to reconcile his own personal shortcomings and confront the ghosts of his own past. It's a very shrewd way of resurrecting this classic story, although the convenient overlaps between Scrooge and Dickens' tales are perhaps a little too serendipitous to be taken seriously.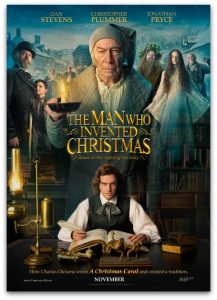 Creative liberties aside, Nalluri's process of interweaving Dickens' biographical narrative with that of his novella is a well-executed storytelling device. Fantasy elements regularly interrupt the real-life re-telling of Dickens' life, but they are far from invasive. The scenes in which A Christmas Carol's plot is most prevalent are also rather satisfying for audiences, who are primed from the beginning to rediscover the magic of the book.
This is both the film's greatest strength and weakness. As it should, The Man Who Invented Christmas relies heavily on Dickens' original text, but these are the scenes most effective in capturing the audience's imaginations and emotions. It's Tiny Tim, the Ghost of Christmas Present, and Scrooge who ultimately pull on our heart strings, whereas the subplot around Dickens' childhood memories of working in a blacking warehouse and his relationship with his father are less powerful.
Despite a relatively low profile, Dan Stevens is a Cumberbatch-esque lead who does justice to the protagonist and provides a smattering of good humour. Meanwhile, the casting of Christopher Plummer – the voice of Up's Charles Muntz – is an inspired choice for the reinterpretation of Scrooge.
The Man Who Invented Christmas is in selected cinemas from 30th November through Icon Film Distribution.