The Teacher, directed by Oscar nominated Jan Hrebejk (Divided We Fall), is all about a teacher you wouldn't want to encounter. Mária Drazdechová (Zuzana Mauréry) is a comrade with connections to the communist party.
Welcome to Bratislava. The year is 1983 and there is lots of wallpaper. This is very drab and very deliberate. So don't expect the most refreshing mise-en-scène or progressive characters; everyone is wearing 80s jumpers and Coke-bottle glasses. It is distracting as much as it is appealing.
Starting the new term at a suburban junior school, Drazdechová makes her pupils individually tell the class their name and what their parents do for a living. This is basically Drazdechová's way of gauging what she can get from them, be it food, house maintenance or custom deliveries. The story focuses on the children who are either bullied or put on a pedestal by Drazdechová, depending on which way the parent is willing to let her connections with the communist party dictate such behaviour.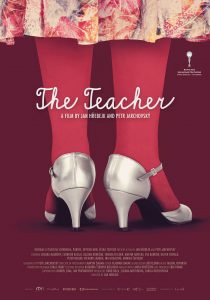 The Teacher is not a cultural analysis or even a history lesson; it is about positions of power. The problem is Drazdechová is so clearly manipulative it is hard to understand her motivations and the context for doing so. It is one dimensional and sometimes hard to watch. Swaying between bullying the victim or using her sexuality, this somewhat became hysterical and shallow to say the least.
The Teacher is more interested in being authentic to the era, which seemed to have a 70s vibe, if anything. However, questions should be raised, like what can I learn from this historically or culturally? What does it say about our own political or cultural moment? Sure this is based on true events, but maybe it would have been more relatable had Hrebejk used his own perspective and reflection on the events and why he felt the need to tell this story.
If you want to go further, this is not enjoyable. The Teacher has received plenty of credible reviews which is cool, however this is a narrative that only caters to a certain crowd or demographic; it withholds information from the rest of us. This is a shame because there's no reason why we can't all enjoy or relate.
The sort of apathetic nature from the teacher sets the tone of the film and the attitude of getting a true grip on important matters such as its history and politics. You could say this is more about costume, furnishings and a touch of broadway than a true study of power.
The Teacher is in cinemas from 23rd November through Palace Films.