Better Watch Out, directed by Chris Peckover, is an Australian/American horror comedy set at Christmas time. Perhaps it does put up a little more cheer than the usual Christmas narrative, however it still manages to be quite basic.
You could say it's a traditional horror setup, involving a pretty babysitter, Ashley (Olivia DeJonge), and a home invasion. Thankfully you do get a little bit more of a twist. Ashley spends the night looking after 12-year-old Luke (Levi Miller) and friend Garrett (Ed Oxenbould), while parents Robert (Patrick Warburton) and Deandra (Virginia Madsen) go out. (On a side note it seems like Robert and Deandra's night out has actually lasted for several days).
And what better way to liven things up but pizza and a horror film? Oh wait, you didn't order that random pizza that has arrived at the door? (It is questionable to think that one pizza could possibly be enough). That's right, it looks like these guys are now in some kind of horror setup with boobie traps and a house that feels like the one in Home Alone.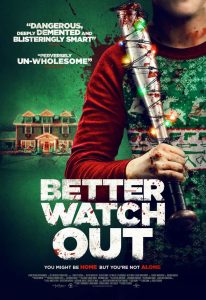 Once the narrative changes, Better Watch Out has an inkling towards the psychological depths of We Need to Talk About Kevin and Goodnight Mommy. This is interesting and quite menacing. Perhaps though, if this went further into this darker side and exploration of the bad seed complex, then it would have been a Christmas film to remember. In a way, having this twist definitely strengthens the narrative, but at the same time it doesn't go any further into deep critical analysis. This is a shame since the acting and characters are strong.
Ashley, Luke and Garrett are characters imbued with life and energy and do drive the narrative forward. However, it would have been nice had the parents come home earlier to discover the horrors that went on, perhaps with commentary on where they stand on parental guidance. It also seems unfair to have Patrick Warburton in the film and not utilise his iconic Seinfeld 'Puddy' voice.
Better Watch Out is a muddled film. It doesn't really fitt into the horror genre or art-house scene, which doesn't matter, but the film seems neither here nor there. Apart from a ballsy ending, which is appeasable at least, it did have some enjoyable moments that happen to make the bad bits stand out even more.
Better Watch Out is in cinemas from 23rd November through Rialto Distribution.