For one last time we can be witness to the work of prolific actor, musician and singer Harry Dean Stanton and also say goodbye in John Carroll Lynch's (Zodiac) film Lucky.
Friends that had the pleasure of working, interacting and knowing a little bit about Stanton helped create Lucky's personality. Aimed as a fan letter from Lynch to Stanton, this is Lynch's first film feature to his usual acting trademark. There is also another Lynch in this film, David. David Lynch plays the character of Howard. He does what Lynch does best: shouts. His character brings energy and warmth to some of the more bizarre facts and perspectives to his much loved tortoise, President Roosevelt.
Lynch colourises a script that had been purposefully written for Stanton. Playing the character of Lucky, Stanton is somewhere between a 90-year-old Larry David, a loner, and a spiritual elder. After having a somewhat 'near-death' experience, this is about Lucky's journey in preparing and exploring the uncertainty and unavoidabilty of death.
With both beautiful and awkward cinematography, Lucky has location shooting from deserts north of LA, to Cave Creek, Arizona. Lynch really enhances the neighbourhood and small town vibe Lucky is a part of. The many still frames the film uses capture the slow and determined drive of Stanton's character. Sometimes Lucky is as fast as the flickering shots, but most of the time we are watching his slow but determine plodding. Waiting for his next moment in life or fulfilling his ritualised tasks, this routine is as funny as it is important to Lucky's place in the world.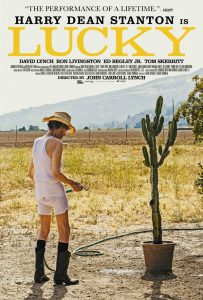 Lucky is a charming film, played exquisitely and individualised by different actors who really compliment the narrative and the journey that Lucky lives in. Ron Livingston (OfficeSpace) who plays Bobby a nerdy life insurance representative, is memorable in his small but important moments he has with Lucky. This is beautifully and thoughtfully resolved. It gives Bobby's character more humanity and understanding to what he sells, not to mention a lot more guts.
Beth Grant (No Country for Old Men) is also charming as Elaine, a sassy but strict owner of the bar Lucky hangs out at to drink his daily Bloody Marys. They do share a feisty moment together and you do really applaud this fight and the resoluteness of Lucky. Even a small encounter with Fred (Tom Skerritt, Aliens, Top Gun) at his daily diner about the wartime memories is poignant and bittersweet. And of course, Stanton is a delight, upholding his integrity, legacy and rebellious streak.
It is all these little encounters that really give heart and understandings to Lucky's journey in self discovery and existential being. It's teary to note that Stanton who died on September 15th, 2017 never got to see the finished cut, however there is certainly a level of admiration and applause going on here.
Since this film is really about Stanton, you could say that Harry Dean may be awfully skinny to look at, but to hear him utter the word cunt is what makes this film and watching such a legend on screen, go beyond fulfilment.
Lucky is in cinemas from 16th November through Umbrella Entertainment.