Agatha Christie's most famous work has been adapted for the big screen, silver screen and television, on no less than five occasions, with varying degrees of success. Sidney Lumet's 1974 adaptation featuring an incredible cast of Hollywood heavyweights, including Albert Finney as the famed Belgian detective, remains the most successful big screen Christie adaptation both critically and commercially. It even earned Ingrid Bergman an Oscar.
Celebrated character actor David Suchet played the part of the funny little Belgian for a quarter of a century, portraying the detective on Agatha Christie's Poirot, and on stage, in every single one of Poirot's story's ever put to page. It was quite brave of director/star Kenneth Branagh to take on the role in this complete waste of time and money.
Murder on the Orient Express has resonated with audiences since it was first published in 1934 for many reasons. By that time Poirot was already a well established and much loved character with his peculiar quirks and little grey cells, who finds himself (as many detectives did at the time) in some unusual situations. On the first class carriage of the Simplon Orient Express departing from Istanbul, a passenger is murdered, and before the Yugoslavian Police get involved, train director Bouc (Tom Bateman) who is a friend of Poirot's and fellow traveller, implores his friend to solve the crime and present it to the authorities.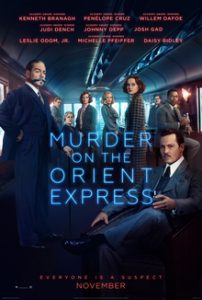 Much of the joy of a murder mystery is trying to figure out whodunnit, however many leaps in the plot (which will be familiar only to those few who have seen an adaptation before, or read the book), muddling of key evidence expositions, and far too many extremes in action make this an unsatisfactory film with a drawn out, and rather boring denouement.
There can be nothing said for the supporting cast as they are merely set pieces for Branagh's over-acting. Where once Poirot's peculiarities and particulars, such as his breakfast eating habits, were tiny quirks, which endeared the meticulous genius to audiences, here they are overplayed and harped upon constantly for comedic effect. Described at length as a "funny little man", he abhors the cold and is always resplendently attired no matter where he is. He prefers to sit and think than be active. A man who was sent to a health retreat for obesity in this incarnation fancies himself an action man, unperturbed by inclement weather or gunfire.
Michael Green's script is clumsy and lacking the refinement and tension of Christie's masterpiece. It interjects a storm, avalanche, and stranded train stalled precariously on an old wooden bridge, when a snow bank and the tension of the enclosed space of the carriages were enough in the novel.
If one is going to adapt a character who has appeared in thirty novels, more than fifty, short stories, one play, numerous big screen adaptations and a lovingly crafted television series spanning twenty-five years and seventy episodes, one should at least do something original with the source material. Some clumsy references to Stalin's politics and a hatchet job of introducing some race tensions do nothing to aid the plot or the overall effect of the film. Read the book, watch David Suchet's turn, watch the original 1974 version, but don't waste your money on this.
Murder on the Orient Express is in cinemas from 9th November through 20th Century Fox.