After taking the film world, and indeed the world in general, by storm, Wonder Woman is now officially the highest grossing superhero origin film of all time. She has been a controversial character since her inception, and the man-baby reactions of Twitter and Reddit to her big screen debut, which seems to undercut the significance of female representation in a world of powerful, mostly male beings, becomes even more insane when you learn the extraordinary origin story of the character and the women, ideas and movements which inspired her.
Professor Marston, made ever more charming (and not creepy and lecherous as he could be) by Luke Evans, was an extraordinary man, achieving much in his professional and academic life. But for the purposes of this film he was a simple Harvard graduate and Tufts institute professor of psychology and researcher of human behaviour. His ideas were championed by his strong feminist wife Elizabeth, played with equal parts ferocity and vulnerability by Rebecca Hall, and together they produced what we know of today as a polygraph test.
The events of Professor Marston and the Wonder Women focuses on the married couple meeting student-cum-teacher's-assistant-cum-lover Olive Byrne, played by the mesmerising and expertly cast Australian powerhouse Bella Heathcote. She was a woman whose strongly feminist but secret upbringing helped to inspire the feminist overtones and symbology of Wonder Woman, and potentially shape the nature of the trio's relationship. Unconventional even by today's archaic and rigid standards, the film centres on their polyamorous relationship, an exploration of taboo sexual practices, and the writing of a comic book which introduced complex psychological theories about behaviour, as well as bondage and sado-masochism, into the mainstream.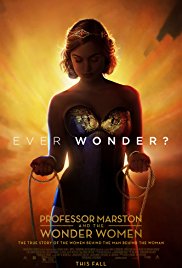 Although it has been cut and fictionalised somewhat to fit into 108 minutes, the story of these three extraordinary people, the family they raised and the influence they made on popular culture is incredible. The true story, which you can read about through the Smithsonian Institute archives, makes for quite incredible reading. It explores the ongoing controversy surrounding Wonder Woman, what she represented and how she was used as a symbol in censorship fights, decency trials, and how she evolved into a feminist icon.
Writer and director Angela Robinson has a familiar history dealing with female sexuality. Her writing can be found on many episodes of True Blood and The L Word, and her experience with these themes comes across in the natural progression of the relationships and the almost mundane nature of their reality. The relationship at the heart of this film is unconventional, but Robinson's affection for the characters and their honesty with themselves, each other and their feelings, normalises it to the point where is seems unusual when at times, it becomes an issue for them or their family.
The themes tackled in this film are important and handled with tenacity and care, particularly important at a time when we are still debating for some reason, whether our government or anyone else, has the right to define what is and isn't a normal relationship worthy of a marriage certificate. This film is set in the 1930s and 40s, but it feels relevant now more than ever. When the film's titles are itching to roll, we are informed that when Marston passed, Wonder Woman lost her powers in the comic. Now that she has them back and is stronger than ever, let's hope his ideas of a peaceful world run by the more caring, less aggressive sex, take hold.
Professor Marston and the Wonder Women screens exclusively at Cinema Nova from 9th November through Sony Pictures.