At the start of November the Christmas decorations start to adorn the city, carols start to be played through the supermarket radio channels, and grinches complain that it's still two bloody months away. But SCREW THOSE PEOPLE because Christmas is everything! And it's near enough for our first Christmas release of the year, Bad Moms 2 (originally titled A Bad Moms Christmas before someone realised how lame that sounded).
Last year's original Bad Moms followed trio of mothers, Amy (Mila Kunis), Kiki (Kristen Bell) and Carla (Kathryn Hahn) as they navigated motherhood while still being fun people with lives. Given Jon Lucas and Scott Moore, responsible for The Hangover trilogy, are at the helm, it wouldn't be surprising if the sequel was a direct rehash of the same old story. After all, The Hangover 2 was basically just The Hangover but set in a different city. (As for the third, I can't say. I gave up at that point). Thankfully, Bad Moms 2 takes a slightly different approach by bringing in the moms' moms this time, that is, grandmas Christine Baranski, Cheryl Hines, and Susan Sarandon. The focus therefore shifts from PTA meetings to the (sometimes turbulent) mother-daughter relationship in adulthood.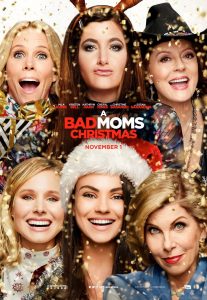 An already very likeable trio turns into an even bigger and better cast with the addition of the older moms. Christine Baranski is Amy's high-maintenance mother, Ruth, who is obsessed with making Christmas as over the top as possible in order to please the grandchildren. Kiki's mother Sandy (Cheryl Hines) is a mixture of sweet and bordering on psychopathic as a mother who cannot let go of her child even as an adult, having no sense of boundaries. Susan Sarandon is Carla's wild child, alcoholic, gambling mother, Isis (yes you read that correctly), who has clearly always been a 'cool' mum but also the worst mother of the bunch. The kids and partners still feature, but their roles are minimal (although Jay Hernandez and Justin Hartley are great eye candy and it's always great to see Peter Gallagher's eyebrows again).
The film, much like the first, is rather ridiculous, but also a riotous experience for female audiences who don't like to take things too seriously. Carla's encounter with a male stripper at the beauty spa where she works is a particular highlight, along with their additional encounters. Kathryn Hahn is fabulous yet again – she really seems like a completely different person here compared to her turn in Transparent. Prudish viewers should beware – this isn't a rainbows and lollipops version of femininity; they curse, make dick jokes, and get it on, and praise be to that.
Along with the many laughs, there are also a few sweet moments that may leave some viewers reaching for the tissues. It's a film that's probably unlikely to be enjoyed by many male viewers, but if you're after a light-hearted girls' night out – in the spirit of Christmas! – Bad Moms 2 is the ticket.
Bad Moms 2 is in cinemas from 2nd November through Roadshow Films.