James Pope is 25 and his life is about to undergo a seismic shift. Abducted by Ted and April Mitchum (Mark Hamill and Jane Adams) as a baby, he has grown up underground with a belief that the outside air will give him skin lesions if he doesn't wear a gas mask. You might think that this life would become dull but he has never known a more interesting reality, and besides there is someone else who has helped him through it – a kind of surrogate parent created to supplement Ted and April's cultish teachings. He's a nostalgic mash of 80s VHS production values, whose positivity and persistence always win the day. He's an intergalactic problem-solving bear called Brigsby.
But when the lights and sirens unearth the bunker, James's life as he knows it ends and another begins. The new world is much bigger, he has a new, more biological family, and everyone wants to help him. Rather they say they do, but no-one seems to know the answer to his most pressing question: what on earth happened to Brigsby? When he learns that no-one knows who that is, he sets out to finish it himself.
Even if Brigsby Bear, written by Kevin Costello and Kyle Mooney (who also plays James), doesn't always dig quite as deep as it could into the issues it raises about parenting, indoctrination and the screen obsessions of the black mirror generation, this whimsical film's message of positivity, acceptance and embracing your creative instincts is hard to resist. Add a knowing wink to the comfy nostalgia of children's television and director Dave McCary has all the ingredients for a sure-fire indie favourite. Never mind the moral conundrums.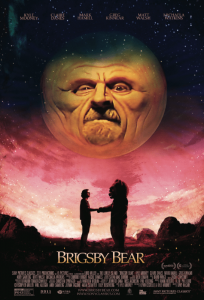 Twenty-five years of wilful deception and imprisonment would be hard to forgive, but somehow this dark part of the story, as told through the eyes of James, seems utterly secondary. His fake parents are little more than a plot device, his increasingly puzzled new parents (Matt Walsh and Michaela Watkins) are shocked onlookers. Only his new filmmaking friend Spencer (Jorge Lendeborg Jr.) and Detective Vogel (Greg Kinnear) seem willing to actively engage with James on his level, and it is with these characters unsurprisingly that James comes alive and the story lurches forward. On the whole it's all about Brigsby and his journey of positivity and wizard assassination.
Arguably indulging a former abductee in his obsession with a television show created specifically to brainwash him is unwise, but obviously that is a question for another day for these Saturday Night Live alumni. There is nothing probable about the scenario to encourage us to take this too seriously, and the overriding encouragement of creativity and acceptance largely put any hang-ups to one side.
Mooney's deadpan delivery owes more to Napoleon Dynamite than it does to any plot similarities with Unbreakable Kimmy Schmidt, but he carries the awkward turtle persona well, mimicking to endearing effect the emotional rollercoaster you'd expect of a 12-year-old. Odd-ball characters like James can often be exploited for laughs through humiliation, but Mooney has gentler aspirations for this film. James's journey is not so much about the correcting mistakes in his development; it's more about building on what he knows and inspiring his new friends with his raw perspective. Its overriding sentiment is not a penny-drop moment, something akin to 'Be true to yourself and accepting of others', but the way James' sincerity catches people off guard in a world of withheld emotion is a refreshing antidote to the cynicism and gutter humour of comparable comedies.
Brigsby Bear is in cinemas from 26th October through Sony Pictures.