With a decent hiatus between innings it's with great anticipation audiences were looking forward to Tomas Alfredson's directorial return. Coming off the back of Tinker Tailor Soldier Spy, The Snowman seemed like the perfect reunion with all the pieces in place for the most underrated film of  2017. The Swedish born Alfredson returns to his Scandinavian roots (having previously directed the masterful Let the Right One In), to adapt the incredibly successful Jo Nesbo novel of the same name. Also under his control is a phenomenal pedigree of acting talent. Michael Fassbender, Charlotte Gainsbourg, J.K. Simmons, Rebecca Ferguson, and Toby Jones. By rights this should be approaching the same phenomenal level of Tinker Tailor Soldier Spy, which I had to rewatch to fully understand the complex and brilliant story. By contrast, most will be able to hazard an accurate guess at The Snowman's ending halfway through the feature.
The ice noir thriller is set in Norway – alternating from Oslo and Bergen. Fassbender plays rogue detective Harry Hole. The alliteration roles off the tongue nicely. He's the rogue alcoholic detective we all know and love: emotionally stunted, never going 'by the book' to the ire of his boss. The one thing he isn't however, is shrewd. Depsite being told repeatedly how great a detective he is, Hole manages to misread a plethora of clues in front of him. Don't be surprised if you figure out the killer's identity a good hour before Fassbender does.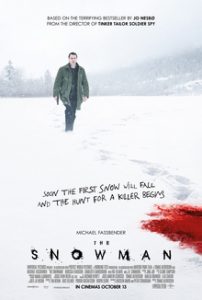 Harry has just broken up with long term partner Rakel (Gainsbourg). He's drinking more than ever (but is in fantastic shape) and has drawn the attention of junior investigator Katrine (Ferguson). Though she is just starting out her career Katrine has a much better nose for crime, finding patterns and clues for the disinterested Hole. They make a good platonic crime team, but that is torn when Hole uncovers the reasoning behind her reckless enthusiasm for catching the killer. Katrine's father, detective Rafto (Val Kilmer) was murdered years back while investigating the same killer.
The flashbacks to Kilmer are unwarranted and slow down a movie that moves with glacial speed. The parallels between Kilmer and Fassbender's characters are excruciatingly obvious, in a film which toys with thematic repetition. They are both doting yet flawed fathers, and hopeless drunks. Unwarranted or not, Kilmer's appearance in the film is bizarre but enjoyable. Muttering under his breath and lurching around the set, his inspiration for his role seems to be Marlon Brando's performance as Dr. Moreau from the 1996 feature Kilmer appeared in.
J.K. Simmons is another star whose appearance in the film is confounding, playing Arve Stop, an important man leading the campaign for Oslo to host the Winter Games. With a hidden penchant for prostitutes he certainly is slimey but never a contender as suspect. I can only garner the reason for his screen time is due to being a key character in the books but again, there is little reason for him to be on screen here.
With the fat trimmed and condensed down there is a good sixty minutes of psychological thriller in this mismatched two hour mosaic. A snowman was always going to be a hard sell as the calling card for a terrifying serial killer but there was potential. The cast all do incredibly, but drawn out with superfluous locations and characters The Snowman won't be the hottest thriller this year.
The Snowman is in cinemas from 19th October through Universal Pictures.