At only 33, Australian actor/director Simon Stone is a name that most diehard theatre lovers will know. If you haven't, be prepared to hear a lot more about him because his latest production for National Theatre, Yerma, adapted from a Spanish play from the 1930s, is a masterpiece.
Set in contemporary London, Billie Piper plays the woman we know only as 'her', a thirty-something working as a magazine editor and blogger. She and her workaholic husband (Brendan Cowell) have got to that point in their lives when they're starting to consider children. They clearly love each other and are both successful enough to support such a venture so it might finally be time to give it a go, even if Piper's character has never been particularly fond of the idea until now.
Unfortunately yerma means 'barren' in Spanish. Try as she might, she simply cannot get pregnant. It becomes an obsession. Her every waking moment is spent wondering why she can't conceive and as the years go by the anger and self hatred that this has engendered begins to drive her mad.
Billie Piper won the Olivier Award for her performance in Yerma and she deserves it. The actress who was once Doctor Who's companion has now become nothing less than one of the greatest British actresses of her generation. She is astonishing here. This has to be the rawest, most emotive performance of 2017 and with it she has joined the upper echelon of British thespians. It's a role to which everyone will react to differently. Piper's character is impossible not to feel sorry for but the venom with which she lashes out loses her the moral high ground. This is drama at its absolute finest. You won't feel happy or content walking out of this but it's all the better for it.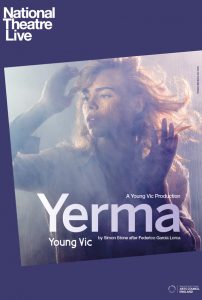 The subject of infertility means something totally different to men and women, and the taboo nature of the discussion makes this a very confronting watch. Any woman or couple who have wrestled with this is advised to stay away – this is going to cut too deeply if you or someone close to you has gone though this.
Across from Piper is Australian actor and writer Brendan Cowell. Cowell has always been a good actor in Australian films and TV but here is where he truly shows the depth of his talent. Acting opposite the powerhouse of Piper couldn't be easy but he holds up his side of the equation. If this is how good Cowell is on stage, any play that he works on is worth seeing.
Props and set are kept minimalist. The whole play takes place in a large glass box, with a select few props added to each scene. The sparse nature of this focuses everything on the performances, and the astonishing quality of the acting means it works. Supporting work by John Macmillan and Maureen Beattie is great but is simply overshadowed by the towering presences of Piper and Cowell.
The only flaw in what is overall a brilliantly realised idea is that individual scenes rarely last more than two minutes. This is like a very large selection of individual moments rather than four large evolving acts. There's nothing wrong with this, but when seen in a movie theatre the constant cuts to black start to get annoying. At only one hour and forty minutes this is a short production compared with other National Theatre works which can be up to four hours. More time than is needed is taken up with the screen going black and saying some variant of 'several months later'.
Film and theatre are two totally different experiences. They are both brilliant in their own way but there are some stories that theatre alone can bring to life. Yerma is one of these. This is dramatic theatre at its absolute finest. Simon Stone has crafted a masterpiece and Billie Piper delivers the best performance of the year, perhaps one of the best of the decade.
National Theatre Live: Yerma is in selected cinemas from 14th October through Sharmill Films.