Current marketing for Home Again quotes a reviewer who declared it an "instant classic". And I'm here to tell you that whoever said that is a moron. Writer/director Hallie Meyers-Shyer delivers her feature debut, trying in vain to measure up to the successful schmaltz of her parents, Nancy Meyers (Something's Gotta Give, It's Complicated, The Holiday, The Intern) and Charles Shyer (Father of the Bride/2, I Love Trouble, Alfie).
Reese Witherspoon stars as Alice Kinney, a recently separated mother of two girls, Isabel (Lola Flanery) and Rosie (Eden Grace Redfield). She hits the town for her fortieth with her girlfriends, and meets the charming and hot young thang, Harry (Pico Alexander) and fellow aspiring filmmakers, Teddy (Nat Wolff) and George (Jon Rudnitsky). Everyone ends up at Alice's house, and they all have an orgy. Ha! Nah, it stays about as PG as you would expect for a Meyers/Shyer film. They fall asleep, Alice does Harry's laundry, and then Candice Bergen – as Alice's mother – suggests they put the guys up for a few nights after finding out they idolise Alice's late father, a famous director. Cue cutesy scenes of the boys making Alice and her kids feel valued, some sexy times between Alice and Harry, and Martin Sheen turning up as Alice's ex to show us how old and boring middle-aged men are, and not a lot more in the way of further plot development.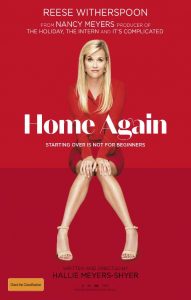 While Nancy Meyers' films did similarly revolve around rich white privileged people in their beautiful houses with their middle class problems, they still tended to work. Home Again, in comparison, falls flat, and doesn't seem to have much of a point other than that females need males to be happy and feel worthy. There's some small focus on Alice's job as an interior decorator, but it doesn't end up going anywhere and her character generally does nothing more than smile and laugh. That this is a film made by a woman is surprising. Some scenes are so ridiculously unrealistic and corny that you don't know whether to laugh or cringe. Case in point: Alice's eldest daughter being unable to say a single line in the play she's written until one of the guys turns up in the wings and stands there. Suddenly she's the picture of confidence and recites her lines with ease.
Alice tells Harry at one stage that "twenty-seven year olds just don't get it" and maybe that goes for viewers around that age range too. But it's odd then that this film was made by a thirty-year-old, who has made an unusual choice for her debut to make a film centred on a forty-year-old. It seems the only audience that may get a kick out of this film are middle-aged women who harbour fantasies about having toy boys with great hair.
The film is certainly nice enough if you don't want to be too challenged and you're after a bit of eye candy. There are some decent patches of dialogue that produce a few laughs, and all of the performances are solid. Unfortunately, there isn't much else to celebrate in a film that is half spent on awkward montages of people smiling around tables.
Home Again is in cinemas from 19th October through Entertainment One.