Films about mental illness aren't the easiest things to make. There are so many nuances to understand and avenues to explore, difficulties which are compounded when you add a love story into the mix. First time feature director and writer Romi Trower has thrown herself into these themes with this sweet little love story, which shows off its wonderful Melbourne scenery and properly introduces the talents of Anna Samson.
Adrian (Luke Ford) is a curious soul. His love of cars is trumped only by his knowledge of seemingly everything, which comes spewing out at the strangest moments in a large factoid-laden spew of word vomit. This probably has something to do with his acute OCD, which isn't simply popular culture's version of OCD which is levelled at anyone who is overly tidy. This is real obsessive compulsive disorder which has the power to muck up lives.
When Adrian moves into a new apartment in Northcote, which is like the Mecca for Melbourne hipsters, he meets Grace (Anna Samson). In her he finds a girl as equally strange as he is, for this very attractive artist is more than he bargained for on account of her multiple personalities. Them getting together seems like a recipe for disaster but as their therapist asks simply: what if it works?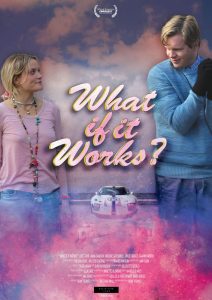 Local Australian dramadies are seldom seen but are often very enjoyable. There's a lot of good local talent around for those willing to look for it. One example that comes to mind is Griff the Invisible from 2011 which seems to share a lot of the DNA of What If It Works. Trower's film is too lightweight to be that memorable but there's enough sweetness here to justify itself.
The films looks amazing, with really quirky and likeable production design set alongside some really fine photography. Grace's apartment looks like an artist's paradise and the streets of Northcote with their cafes and street art are photographed wonderfully. Melbourne is the best city in Australia (fight me, Sydney) and when you're working alongside the gorgeous backdrop of the CBD good photography always pays off.
The real takeaway here is Anna Samson. She has the most wonderful onscreen presence and even manages to act out multiple personalities without it becoming comical. She's the best thing in the film, managing to rise above the rather hackneyed issues her character goes through. Samson has had a few roles in television, including the new adaptation of Wake in Fright, and it won't be surprising if we see a lot more of her in the coming years.
If there's an outright problem it's that there is a noticeable flux in tone. There are individual elements which are extremely dark, like the story Grace tells of how she developed multiple personality disorder which seems like it belongs in a different film. This indicates that the film is trying to say some mature things about mental illness, but in other scenes these characters' behaviours are too silly to be taken seriously. Luke Ford is usually a perfectly passable actor but the way that Adrian acts is more than a little over egged.
What If It Works is probably going to be severely overlooked but that doesn't mean that it's a bad film. There's a lot to enjoy here whether it's the rather sweet romance at the heart of the film, Ella Carey's production design, the streets of Melbourne, or the presence of Anna Samson.
What If It Works? is in cinemas from 12th October through Label Distribution.