When the narration begins at the start of The Only Living Boy in New York, Jeff Bridges' gruff brogue suggests we are in safe hands.  And essentially that's what this film does; while there are some challenging subjects and ideas, it ultimately plays safe with the materials at hand.
The Only Living Boy in New York is the title of this film, of the novel within the film, and (most importantly) the achingly beautiful Simon and Garfunkel song released in 1970. Can the film live up to its namesake? That's a tall order.  While there are many shades of The Graduate here, this film has nothing on Mike Nichols' 1967 classic.
Thomas Webb (Callum Turner) is living in Manhattan and, like the title suggests, he is wrapped up in his own problems and world, a bit oblivious to anything outside of himself.  He is in love with Mimi (Kiersey Clemons), his friend with whom he shared a fleeting moment of intimacy, who now has him firmly relegated to the 'friend zone'.  Thomas is the son of a wealthy publisher and a socialite; he has distanced himself slightly by moving to a less salubrious neighbourhood where he aspires to a more modest existence.  His new neighbour W.F. Gerald (Bridges), an alcoholic writer, takes Thomas under his wing, initially offering guidance in how to secure the affections of Mimi.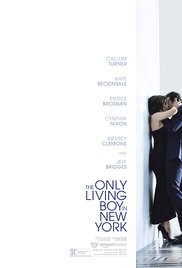 When Thomas discovers his father (Pierce Brosnan) is having an affair, he sets out to dissuade the mistress in an effort to protect his emotionally unstable mother (Cynthia Nixon).  But when Johanna (Kate Beckinsale) confronts Thomas, he is quickly infatuated and they embark on an affair of their own.  Thomas must navigate some classic 'coming of age' territory mixed with these uncharted waters.  He has Gerald as a sounding board, but with his initial immaturity it will clearly take a while for him to come around.
Although the film is not necessarily very good, it is very likable. When the filmmakers are borrowing so much from pop culture and history with the title alone, there needs to be a bit of substance.  This film has that – just a bit of substance.  It's not enough to make it a great film, but just enough to make it enjoyable.
What works well are the literary allusions and the allegories within the film itself. I find that a film about writing and writers needs to be 'writerly', and this film has that quality – even if it's a little ham-fisted. The Only Living Boy in New York intertwines references to writing, literature and pop culture quite well, giving a reasonable degree of intertextuality, albeit appealing at an undergraduate level.  This film demonstrates the potential in writer Allan Loeb and director Marc Webber.
The Only Living Boy in New York wraps up a bit too neatly to make a really great film, playing safe in the end.  It could be a little more daring and dangerous, but maybe it's nice to just watch and walk away.
The Only Living Boy in New York is in cinemas from 12th October through Roadshow Films.