In the mid-20th century, Swiss-Italian artist Alberto Giacometti was one of the leading proponents of the surrealist movement. You may well have seen some of his work; his emaciated sculpted figures are some of the most iconic pieces from the time. An enigmatic and moody man as you might expect, Giacometti (Geoffrey Rush) was safely enshrined at the top of the art world in 1964 when he invited critic and friend James Lord (Armie Hammer) to sit for a portrait in his Paris studio. It promised to be a few hours of mild unease, but who was Lord kidding? Try three weeks. The young American's ensuing recollection of the event, A Giacometti Portrait, provides the groundwork for Final Portrait, this wistful biopic directed and written by Stanley Tucci.
Given Giacometti's view that a portrait is never truly finished, Lord was perhaps naïve to assume a few hours would suffice for such a perfectionist, but the joke was on him. Giacometti was a teaser, and the writing should have been on the wall when his wife Annette (Sylvie Testud) asked Lord, 'Are you his latest victim?'
Tucci brings the typically spry wit that characterises his own performances and sprinkles it lightly among this ambling journey through Giacometti's final years. The artist arguably reveals less about his subject in the painting of his portraits than himself, and Geoffrey Rush plays this up brilliantly. Far less the recluse he makes himself out to be, living in voluntary poverty, Giacometti is a sucker for attention. In fact it becomes apparent that the exercise of having Lord over is not so much to paint a portrait than to tease and be observed by a starry-eyed admirer. Fame may be a 'breeding ground for doubt', but it has its perks.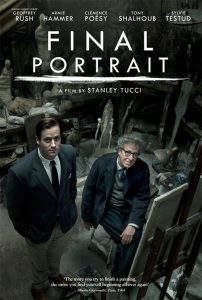 Working from Lord's definitive diary of his time trailing the artist and his somersaulting moods around Paris, Tucci is not overawed by the challenge. While at times the score can tilt a little strongly into Parisian cliché, this is a deftly paced art biopic that doesn't overburden itself with reverence for the artist himself.
It is testament to Rush's delivery of Giacometti's treatises on artistic expression and what his brother Diego (Tony Shalhoub) calls a 'perfect dissatisfaction' that Tucci's playful script doesn't stray into incomprehensibility. Rather the brief exchange between Lord and Giacometti on the role of the painted portrait in the age of photography is the digestible kind of brain-teaser that Tucci brings to life so well. That the studio is so authentically assembled to reflect Giacometti's working life only helps to sustain the illusion.
However, Tucci's characters have often held a sinister side, and it is this artist's alternate face that gives this film a depth and tension that thankfully keeps the director's temptation towards fanboying at bay. A friend like Lord is a play thing, the joke seemingly being how long he can keep painting and re-painting the portrait before Lord catches on, but this levity belies a misogyny and penchant for violent fantasies that reveal a deeply flawed state of mind. A chief victim of this is Annette, who appears to live an unfairly restricted existence trapped in her husband's shadow, kept there by his own insistence, even as he openly spends much of his earnings on his muse, model and lover, the prostitute Caroline (Clémence Poésy). With what attention she can steal from Rush's dominating presence, Testud's assured performance jolts this film out of its comfort zone and takes Hammer's performance up a notch with it, as Lord's interests begin to conflict.
Lord's moral uncertainty at being first witness to this bitter divide is hard to shake off and can't help but dampen the humour that Giacometti takes in playing the dog-owner with his subjects. As much as the pacing reflects the process of the artist's practices and the cast convincingly inhabits the varying roles within Giacometti's little world, it is this honesty of committing Giacometti's best and worst traits to record that makes Final Portrait a fine portrait as well.
Final Portrait is in cinemas from 5th October through Transmission Films.