With the state of US-Mexican relations in a curious place at present, with Donald Trump's border wall still a possibility, Clarity has the potential to tap into some really significant racial and border protection politics.  How valuable are people of colour to white people?  Certainly this film could pose questions around Mexican people being viewed like cattle – producing cheap labour, as well as children and bodily organs for wealthy, white Americans.  Except this film is really badly executed, and it's a struggle to be convinced by the basic premise, let alone the larger socio-political themes.
When 20-year-old Maggie (Dana Melanie) collapses at a surprise celebration dinner, her family discover that she has a rare genetic kidney disorder.  In order to survive, she requires a transplant from someone with an exact genetic match.  With three brothers and her mother hovering around her hospital bed, this should be a pretty straightforward exercise.  Except it's not.  Maggie was adopted as a toddler, stolen from her birth mother and smuggled across the Mexican border. She was then sold to her wealthy American adoptive mother Sharon (Dina Meyer).  If Maggie has any hope of survival, her birth mother Carmen (Nadine Velazquez) must be found, and she and her husband Omar (Maurice Compte) convinced to give up a kidney to save her.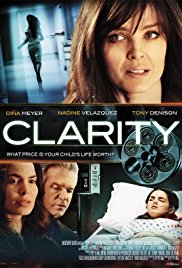 Written and directed by Peyv Raz, Clarity is only just watchable.  It seems to have been intended as a thriller, however the film is incredibly tedious.  The screenplay is very poor, with dialogue laughable in many places – Days of our Lives is more eloquent and convincing – and plot twists which barely make sense.  Acting is equally questionable; Dana Melanie as the bed-ridden Maggie is preposterously enthusiastic despite her imminent death, delivering her lines with a gusto not generally seen in the critically ill.  The melodramatic delivery is not limited to Melanie, with Nadine Velazquez, Maurice Compte and Dina Meyer in their respective roles turning on some soap opera style performances. The audience could be mistaken in thinking this film is actually a spoof of a genuine thriller.
It's hard to say what Peyv Raz is trying to achieve with Clarity.  The pace of the film leaves the audience wanting.  The basic plot is evident from around the fifteen minute mark, so it's a very slow build up to the climactic 'will she/won't she' of Carmen's organ donorship to Maggie.  Raz attempts an epic culmination at the end, but this ultimately feels contrived and more than a little cheap.  It would be wonderful to be able to support independent cinema and newcomers to the industry, but this is really a disappointing film.
Clarity is available on DVD/VOD from 22nd August through Vision Films.