It wasn't all that long ago that a film starring Emma Stone and Steve Carell would be a light-hearted comedic romp. But with Academy endorsements now against both their names – most recently for Stone, returning to the screen for the first time since her La La Land triumph – this is the big time. And nothing spells that out quite like a dramatic two-hour biopic.
Battle of the Sexes, based on the 1973 exhibition match between leading female tennis star Billie Jean King (Stone) and retired maverick Bobby Riggs (Carell), lends itself more to Stone and Carrel's serious side than their funny side, but nevertheless permits them both to play to their strengths. The film itself might not be a good enough product for the pair to receive fresh nominations, but they are hardly to blame.
No longer just the quirky girl-next-door, Stone feels natural portraying the politically strong-willed feminist Billie Jean. Carell is similarly a good fit for the outlandish Bobby, whose penchant for novelty means we get moments of Carell silliness sprinkled in amidst the serious face he practised in recent Oscar bait like The Big Short and Foxcatcher.
One suspects Battle of the Sexes has stayed relatively true to the real-life events of Billie Jean and Bobby's epic tennis battle and the events surrounding it, judging by the film's careful attention to detail. Good screenwriting, however, is not necessarily about what makes the film but what gets cut, and unfortunately writer Simon Beaufoy is not brutal enough in deciding what to leave out. This leaves Battle of the Sexes rather vague in its focus, making it unclear whether the central narrative is that of women's liberation, that of Billie Jean's sexual self-discovery, or if indeed Bobby is actually the star of the show.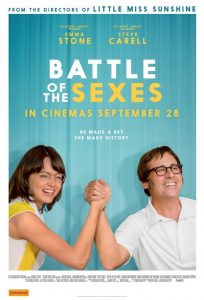 While seeing the respective relationships between Bobby and his wife and son help us better understand his character, they fail to add too much to the overarching narrative of social progress. The same could be said of the superfluous addition of Bobby's quack nutritionist. This character, played by comedian Fred Armisen, accentuates Bobby's ridiculous whims, but is little more than a distracting red herring.
While none of the film's subplots are boring, they do leave the audience wandering around without sufficient direction. We can't invest our emotion in every nook and cranny directors Jonathan Dayton and Valerie Faris take us on, and this dilution of our attention ultimately leaves the film's climax a little flat.
The one strength of the multiple subplots is that it emphasises the multi-dimensionality of Billie Jean's fight for social progress and inclusion. Battle of the Sexes manages to acknowledge that Billy Jane's battle for equality through her tennis match with Bobby was far from a silver bullet for all social issues, but doesn't try to diminish the significance of the match and what that meant for women's sport.
Any film about social change and identity politics is bound to resonate with contemporary audiences, but Battle of the Sexes may inevitably draw additional interest from Australians given its convenient overlap with the same-sex marriage plebiscite. The portrayal of tennis legend but outspoken conservative Margaret Court (Jessica McNamee) will similarly add an extra dimension for Australian audiences. Dayton and Faris don't hold back in their depiction of Court, and one suspects they are all too aware of Court's controversial present-day attitudes.
Battle of the Sexes is in cinemas from 28th September through 20th Century Fox.